Pompeo Intervenes to Release two Canadians held in China after Huawei executive's arrest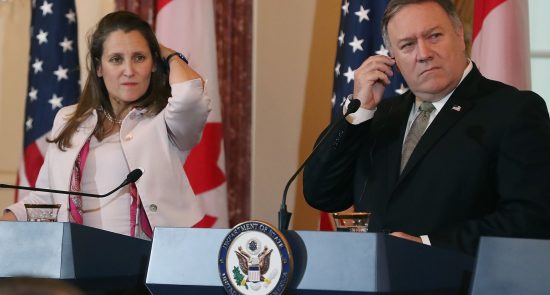 The US secretary of state, Mike Pompeo, has said China should free two Canadian citizens who were detained this week following the arrest in Canada of a senior Huawei executive on a US extradition warrant.
Ariana News Agency- Pompeo's comments were the first by a senior US official on the Canadians' arrests, which the country's prime minister Justin Trudeau said could escalate a growing trade conflict between China and the United States.
"The unlawful detention of two Canadian citizens is unacceptable," Pompeo told reporters after talks in Washington with Canadian foreign minister Chrystia Freeland. "They ought to be returned … We ask all nations of the world to treat other citizens properly."
China detained the two – businessman Michael Spavor and Michael Kovrig, a former diplomat and an adviser with the International Crisis Group (ICG) – after Canadian police arrested Huawei Technologies Co Ltd's chief financial officer, Meng Wanzhou, on 1 December.
Canada's foreign ministry said its ambassador to Beijing, John McCallum, was granted consular access to Kovrig and is pressing for access to Spavor. Trudeau predicted that access would take place "shortly".
"We are being absolutely clear on standing up for our citizens who have been detained, trying to figure out why, trying to work with China to demonstrate that this not acceptable," he told City Tv in Toronto.
ICG President Robert Malley also called for Kovrig's release.
"Michael's arrest is unjust. He should be freed immediately," Malley said in a statement.