UN Chile's Police Accused of Human Rights Abuses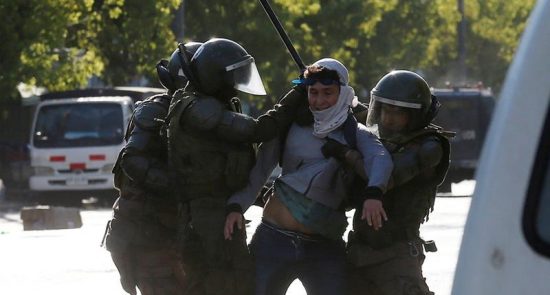 UN investigators accuse Chile's police of responding to recent protests 'in a fundamentally repressive manner'.
Ariana News Agency-
Chilean police and military forces committed serious human rights violations, including killings, torture and violence sexual attacks during anti-government protests that have gripped the country for nearly two months, UN investigators said in a report released on Friday.
The Office of the UN High Commissioner for Human Rights (OHCHR) documented 133 acts of torture and mistreatment, 24 cases of sexual violence and isolated cases of psychological torture, including simulated executions, threats of forced disappearance and threats of rape.
The security forces' response to the protests "was carried out in a fundamentally repressive manner", Imma Guerras-Delgado, the leader of the UN mission to Chile, said on Friday.
Anti-government protests began eight weeks ago when secondary student staged fare evasion demonstrations over now dropped metro fare increases. Those protests sparked broader mass demonstrations against structural inequality. During the same time period, arson, looting and property destruction resulted in three billion dollars in damage, according to the government's estimate.
Crackdowns on the protests by security forces, particularly the Carabineros police force, have resulted in thousands of detentions and injuries. Prosecutors in Chile have said they are investigating 26 deaths related to the unrest, including several alleged killings by security forces and deaths in custody.
Investigators also found an alarming number of eye injuries, about 350, as well as a high number of serious wounds caused by less-lethal weapons. Investigators said these numbers suggest indiscriminate and improper use of such weapons, including firing at close range.