Children Take World Leaders to Task Over Climate Crisis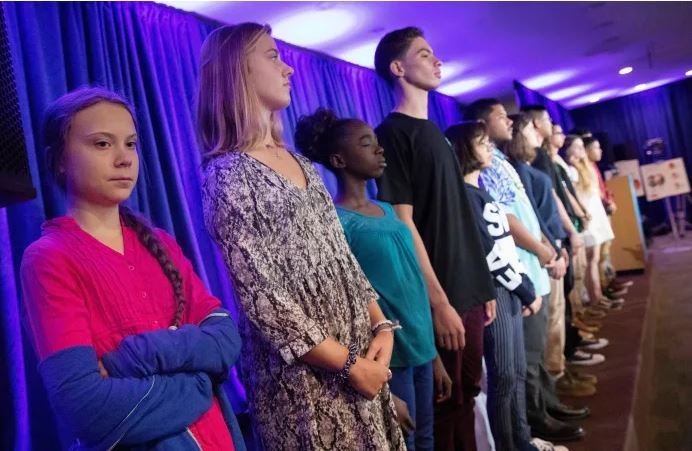 Children from around the globe file landmark complaint against world leaders for violating their rights.
Ariana News Agency-
world leaders should reject autocratic populists' policies; Israeli Supreme Court hearing on deportation of Human Rights Watch Israel and Palestine director; suspension of UK parliament unlawful; Egypt's government continues crackdown on anti-corruption protests; mass arrests in Kazakhstan; disturbing footage of Uyghur prisoners; and six prominent Thai activists acquitted.
Greta Thunberg and 15 other young people filed a potentially world-changing climate complaint. On an abnormally steamy day in New York, when sweat built on the brows of the dark-suited diplomats funneling into the United Nations for a major climate summit, the group of teens cranked up the heat even further.
Having delivered an emotional speech at the opening of the UN Climate Summit in which she accused world leaders of inaction over the global climate crisis 16 year old climate activist Greta Thunberg joined 14 other children from around the world to lodge a landmark complaint under the UN convention on the rights of the child.
World leaders' failure to address the climate breakdown violates the convention and endangers children's lives, the children argued.
They announced that they're suing five of the world's major carbon polluters on the grounds that the countries are violating their rights as children. If the suit is successful, the United Nations would classify the climate crisis as a children's rights crisis.
And more importantly, it would compel Argentina, Brazil, France, Germany, and Turkey—the five countries named in the suit—to work with other nations to forge binding emissions' reduction targets, a sharp change from current international efforts that have so far basically rearranged the deck chairs on the Titanic.
"This is all wrong, I shouldn't be up here," Thunberg said, addressing the General Assembly and shaking with rage. "I should be back in school on the other side of the ocean. You have stolen my dreams, my childhood with your empty words. We will not let you get away with this. Right here, right now is where we draw the line."