How Deeply has India Analyzed its Programs and their Impact in Afghanistan?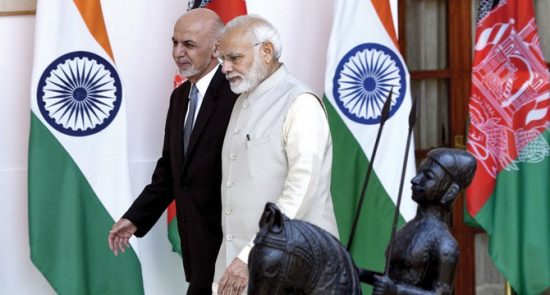 Afghanistan has been one of India's largest recipients of aid and the favorable reception to Indian aid is well-acknowledged by the Afghan public, government and international community.
Ariana News Agency- Afghanistan has been a prime example of India's aid and assistance programs. India's contribution to Afghanistan's civilian reconstruction efforts has been seen as one of the major factors leading to the famed goodwill for India among the Afghans. However, there has been a lack of critical and sober assessment of the tangible impact of Indian aid with respect to the priorities of security and development in Afghanistan. After more than 17 years of foreign security presence and multinational efforts to bring the war-torn country back to its feet and the evolving political space that requires talking to the Taliban while also fighting with them, Afghanistan is at crossroads. Amid such dynamic changes and continuities, the nature of India's aid and assistance needs to undergo an assessment not only in terms of what India can offer but also in terms of what Afghanistan needs.
Since 2001, India's development efforts in Afghanistan have been categorized in the following four categories:
humanitarian assistance, major infrastructure projects, small and community-development projects and education and capacity development.
Humanitarian assistance has included the provision of high-protein biscuits to nearly 2 million children, supply of 2,50,000 metric tonnes of wheat, free medical consultation, and medicines to 30,000 Afghans monthly, provision of vehicles for local governance purposes, and the construction of five public toilet and bathhouse complexes in Kabul.
In the infrastructure space, efforts have included the construction of the Zaranj-Delaram highway, the construction of the Pul-e-Khumri transmission line, construction of the Salma dam, restoration of the telecommunication infrastructure in 11 provinces, construction of the Afghan parliament and the expansion of the television network across the country.
Small and community-development projects that focus on local ownership and management in the agriculture, education, rural development, health, vocational training, and solar energy have been initiated and are at different stages of development.
The efforts in the education and capacity development domain have included the reconstruction of the Indira Gandhi Institute of Child Health, reconstruction of the Habibia School, provision of 500 annual scholarships, provision of 500 training scholarships to Afghan public servants and deputation of 20 Indian public servants to provide training and mentorship, vocational support to Afghan women, and youth, and capacity building in media and information, civil aviation, agricultural research and education, health care and medicinal science, tourism, education, standardization, rural development, public administration, electoral management and administration, and local governance. In a September 2016 meeting between the leaders of the two states, Indian Prime Minister Narendra Modi pledged an additional $1 billion with greater impetus to the small development projects that are characterized by local community engagement and execution.
The nature and allocation of Indian development aid has generated goodwill in Afghanistan. This goodwill has led to greater allocation of aid in favor of well-received small development projects, indicating a degree of learning on the part of the Indian aid program to respond to Afghan input. Indian aid has also been acknowledged as the "most focused and effective" aid program in Afghanistan in terms of the value for aid generated.
A geographical mapping of India's efforts leads to the inference that Indian efforts have been spread across all provinces in the country. But, a significant part of the efforts have been concentrated in and around Kabul, intended to strengthen the state and supporting its efforts at development in the proximate region. There has been a definite emphasis on state-building. Another reason for the geographical nature of these efforts is the association with the U.S. presence which has provided a security cover to India efforts.
Afghanistan has been one of India's largest recipients of aid and the favorable reception to Indian aid is well-acknowledged by the Afghan public, government and international community. However, in light of the constantly shifting political, security and economic spaces, New Delhi's approach to the country as a whole, including the intended objectives of its aid and assistance programs and their actual outcomes, need to be assessed. The perception among Afghans regarding India's contribution to Afghan reconstruction efforts is a dynamic vector that needs to be understood and taken into consideration for a more need based and impactful aid and assistance program, which could be a significant force multiplier for India-Afghanistan strategic partnership.