Iraq: Protesters Killed by Security Forces Teargas Canisters, HRW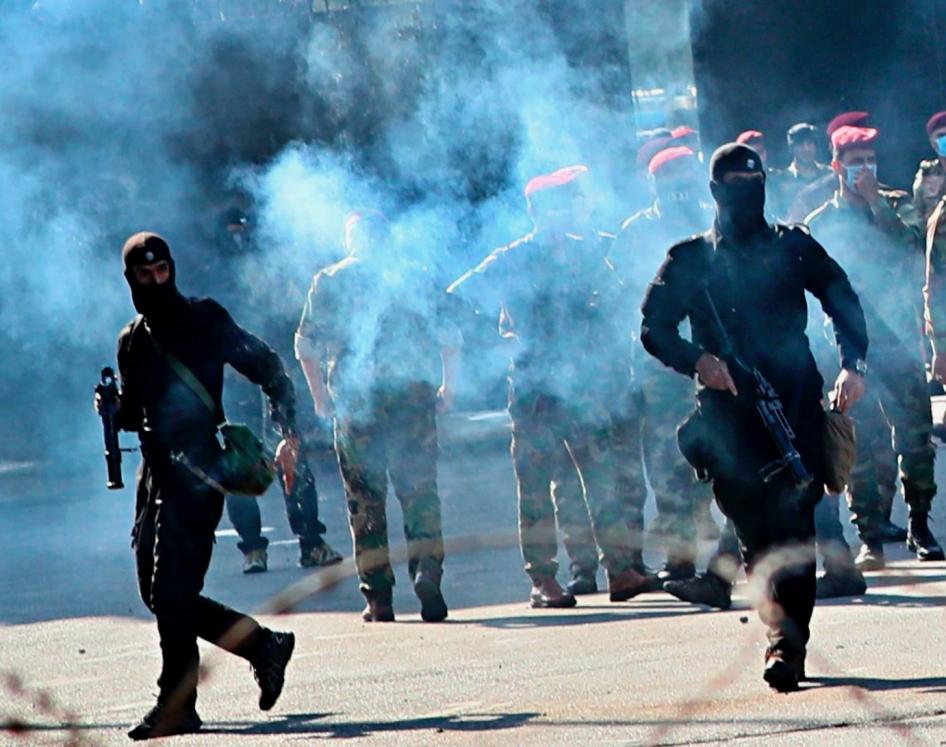 Iraqi security forces fired tear gas canisters into crowds, killing at least eight protesters, during demonstrations in Baghdad on October 25, 2019.
Ariana News Agency-
Although forces in Baghdad refrained from using live rounds, at demonstrations in southern cities, protesters attempted to burn down Popular Mobilization Forces (Hashad or PMF) office buildings, leading forces inside to open fire and kill protesters. In Basra, a police vehicle drove into a crowd of protesters, injuring some.
"Even facing violent attacks by protesters, security forces are required to limit their response strictly to what is proportionate and necessary to maintain order," said Sarah Leah Whitson, Middle East director at Human Rights Watch. "What we've now seen time and again are Iraqi security forces resorting to unnecessary force, even against nonviolent protesters."
Protests started in Baghdad and Shia-majority governorates in southern Iraq on October 1, with protesters demanding improved services and more action to curb corruption.
Between October 1 and 9, Human Rights Watch documented how security forces used excessive lethal force in confronting rock-throwing protesters, killing 149 and injuring 5,494. Security forces also shot at protesters as they dispersed and sprayed them with scalding water.
Following public outrage at the high death toll, Prime Minister Adil Abd Al-Mahdi on October 22 approved the recommendations of an investigation into the deaths. These included firing senior security officials and investigating senior officials.
The investigation found that 70 percent of those killed had died from bullet wounds to the head or chest. It said the authorities should also refer commanders implicated in abuses to the judiciary.
An Interior Ministry spokesman assured the public on October 24 the extreme violence would not be repeated: "The responsibility of the security forces is to secure demonstrations, maintain civil peace, protect citizens' interests and ensure the flow of movement in Baghdad and cities… Everyone is keen on peace and stability and overcoming the mistakes that have taken place in previous demonstrations. We therefore call upon our citizens to practice their normal activities."
On October 25, protests resumed in Baghdad and southern governorates and are continuing. According to the Independent High Commission for Human Rights of Iraq, 30 protesters were killed and 2,312 were wounded that day, but the death toll mounted to at least 63 by October 26.
The Independent High Commission for Human Rights of Iraq said protesters burned and damaged at least 50 government buildings and political party offices across different southern cities.
It also said that two journalists were injured. According to NAS News, the Communication and Media Commission ordered a local TV station, Dijlah, off the air because of its protest coverage for the second time this month.