Kurds had back Channel open to Syria, Russia over fears of U.S. pullout: officials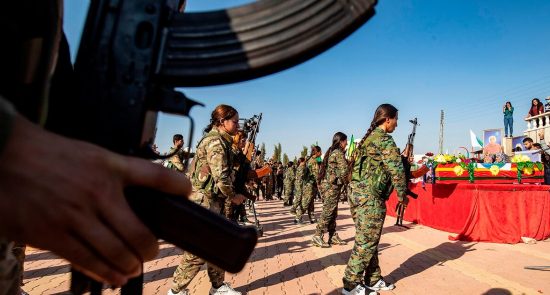 When Syria's Kurdish fighters, America's longtime battlefield allies against the Islamic State, announced over the weekend that they were switching sides and joining up with Damascus and Moscow, it seemed like a moment of geopolitical whiplash.
Ariana News Agency-
But in fact, the move had been in the works for more than a year. Fearing U.S. abandonment, the Kurds opened a back channel to the Syrian government and the Russians in 2018, and those talks ramped up significantly in recent weeks, American, Kurdish and Russian officials told The Associated Press.
"We warned the Kurds that the Americans will ditch them," Russia's ambassador to the European Union, Vladimir Chizhov, told Russia's Tass news agency on Monday.
The switch in allegiances is a stark illustration of how American foes like Russia and Syria are working steadily to fill the vacuum left by President Donald Trump's retreat in the region. It also betrays the anxiety that U.S. allies across the globe now feel in the face of Trump's seemingly impulsive foreign policy decisions, which often come as a surprise to allies and critics alike.
When Trump announced Oct. 6 that he was pulling American troops back from northeastern Syria, paving the way for an assault by Turkey, the Kurds knew exactly where to turn.
Syria's Kurds have publicly acknowledged courting the Syrian government and its allies over the past year. But much of the back-channel diplomacy, including the most recent talks, happened behind the scenes.