Senior Saudi Princess Reveals That She Is In Prison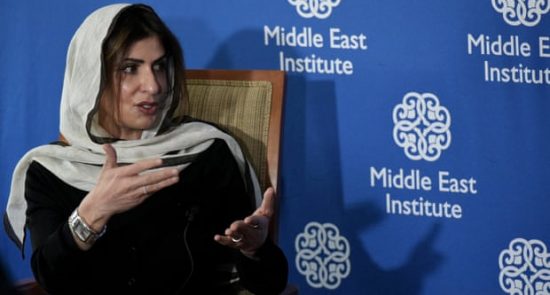 Princess Basmah, a human rights advocate and niece of King Salman, says she has been detained without charge.
Ariana News Agency-
A senior Saudi royal and granddaughter of the country's founding monarch has revealed she is being held in prison and demanded that the current ruler and her cousin, Crown Prince Mohammed bin Salman, release her and provide medical care.
Princess Basmah bint Saud bin Abdulaziz al-Saud, an outspoken human rights advocate, claims she is being detained without charge in Riyadh with one of her daughters. She says neither have received explanations for their arrests, despite repeated pleas to the kingdom's royal court, and to her uncle King Salman.
The princess, the last of King Saud's 108 children, took to Twitter to plead for freedom and claim her health had deteriorated to the point that it was now "very critical". She said she was being held in al-Ha'ir prison, and claimed to have done no wrong.
News of her detention surprised two senior royals who said she had not been heard from for close to a year, and was thought to be convalescing after a bout of illness. Other members of the extended family believed her to be under house arrest.
It is understood that Princess Basmah and her daughter were detained as they tried to leave Saudi Arabia for Switzerland in March last year. She claimed then to be in urgent need of medical treatment. However her private jet was not allowed to depart.
Relatives had since had fleeting conversations with the 52-year-old, with one claiming on Thursday that she had been guarded and appeared to be speaking under duress. Princess Basmah had been a frequent advocate of reform in the kingdom, and had advanced women's rights and humanitarian rights during a brief media career, and several years in London, where she developed a business career.
She had called for Saudi Arabia to become a constitutional monarchy, a change that would have separated the position of monarch from the country's executive branch – a fundamental change to its current status of an absolute monarchy.
She returned to the kingdom in late 2015, assuming a role of supporter of the royal family on one hand, but in-house critic on the other. She urged restraint in the Saudi-led war in Yemen and widespread reforms at home.
Human Rights Watch (HRW) said the arrest fitted a clear pattern of dissenters being ruthlessly silenced by Prince Mohammed, who has methodically consolidated power since ousting his uncle Mohammed bin Nayef nearly three years ago and giving himself a clear run to the throne.