Pashtuns Rally In Peshawar To 'End Enforced Disappearances'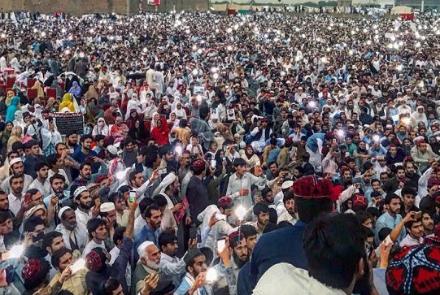 Tens of thousands of Pashtuns gathered in Pakistan's northwestern city of Peshawar on Sunday in a mass demonstration to demand the protection of the rights of Pashtuns.
The Pashtun Tahafuz Movement – PTM, or Pashtun Protection Movement, was started mainly by young Pashtun activists who are demanding an end to what they say are human rights violations by authorities in the country's tribal regions.
They have been calling for the removal of military checkpoints in tribal areas and an end to "enforced disappearances" in which suspects are detained by security forces without due process.
Pakistan Today newspaper reported that the PTM leader Manzoor Pashteen said at the gathering: "We are only against the oppressors."
"We are only the 'agents' of our nation," he said, addressing allegations that the movement is being backed by foreign agencies.
"What has happened so far for the missing persons?" he asked. "The mothers and elders whose beloveds are missing should not be coerced."
"In Karachi, money is taken in return for bodies. Even Genghis Khan did not take money after killing people," he added.
Pashteen also said Pakistan's government needs to clear landmines from the war-torn tribal regions along the border with Afghanistan.
Pakistan Today reported hundreds of women and children were among the demonstrators on Monday while hundreds more held up photographs of their missing relatives.
Pashteen meanwhile said the Islamabad sit-in would end only after an international guarantee securing their rights. He also said a rally will be held inWaziristan.
"We have to give the coming generations a bright future," he added.
The Pakistan government rejects allegations that security forces or its intelligence service is responsible for disappearances, Pakistan Today reported.