Catalonia on Fire, Protectors Clash with Police and Block Roads- Video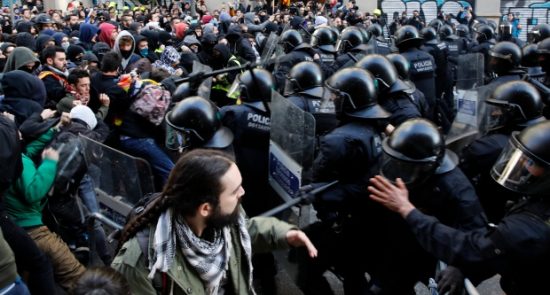 Catalan pro-independence groups blocked roads and clashed with baton-wielding police on Friday in protests against a Spanish government cabinet meeting in Barcelona which separatists branded a provocation.
Ariana News Agency- The weekly cabinet meeting usually takes place in Madrid but Prime Minister Pedro Sanchez's Socialist government decided to hold it in the Catalan capital as part of its efforts to reduce tensions in Catalonia.
It appeared to have the opposite effect in some of streets of the capital of the northeastern region, which last year made a failed attempt to break away from Spain.
AFP reporters saw lines of riot police lashing out with their batons as they charged a crowd of protesters who tried to breach a police barrier a few hundred metres (yards) from where the meeting was taking place.
Sanchez and the head of Catalonia's separatist government, Quim Torra, have expressed commitment to an "effective dialogue" to try to resolve the dispute over the wealthy region's status within Spain.
The government was aiming to use the cabinet meeting to approve a 22 percent increase in the minimum wage, a pay hike for public workers and announce investments in infrastructure projects in Catalonia.
But separatist leaders said the timing of the meeting was provocative: a year to the day after Madrid held snap elections in the region after blocking its move for independence.
Spain's wealthiest region, Catalonia is home to some 7.5 million people and has its own language.
'Ungovernable'
A radical separatist group, the Committees for the Defence of the Republic (CDR), blocked a dozen main roads from around dawn on Friday, regional transport authorities said.
"We will be ungovernable on December 21," the group repeatedly tweeted.
A grassroots separatist organisation, ANC, urged supporters to block the streets of Barcelona on Friday with their vehicles.