1000s join rallies in UK, Canada, Australia to slam Israel atrocities on Palestine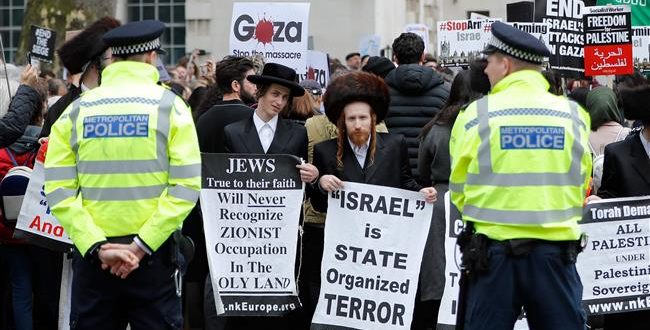 Thousands of people have taken part in a massive rally in Britain's capital London to express solidarity with Palestinian protesters in the Gaza Strip and condemn persisting atrocities by the Israeli regime in the occupied territories as well as UK's inaction toward such violence.
The protesters gathered Saturday outside of British prime minister's residence on Downing Street and also voiced their anger at UK's silence versus the abuses being inflicted on Palestinians by the Israeli forces as the country's Labour Party Leader Jeremy Corbyn slammed Western inaction over the regime's killing of over 30 Palestinians during anti-occupation protests in the besieged Gaza Strip.
The London protesters carried signs and waved banners calling for an end to the Israeli regime's brutal blockade on the tightly populated Gaza since 2007. The Palestine Solidarity Campaign and Stop the War coalition were among several organizations sponsoring the massive protest event.
"The silence from international powers with the responsibility of bringing a just settlement of the Israel-Palestine conflict must end," said Corbyn at the Downing Street protest rally.
He further told the demonstrators that "the killing and wounding of yet more unarmed Palestinian protesters yesterday by Israeli forces in Gaza is an outrage," underlining that "firing live ammunition into crowds of unarmed civilians is illegal and inhumane and cannot be tolerated."
The development came after Palestinian waged their annual protest march late last month towards the fence separating Gaza from the territories occupied by the Israeli regime to begin a six-week protest event dubbed "The Great March of Return," demanding the right to return for Palestinians driven out of their homeland.
The demonstrations turned violent after Israeli forces used tear gas and live fire against crowds of protesters. So far, over 30 Palestinian have been killed and hundreds injured by the Israeli military and police forces.
Palestine solidarity and anti-Israeli protest rallies were also waged in major Canadian city of Vancouver, where hundreds of protesters marched for hours across the city center, waving signs and shouting slogans condemning Israeli atrocities against Palestinian protesters and calling for a free Palestine.
Also in Australia, nearly 1,000 demonstrators joined a protest rally in Melbourn dubbed 'Free Palestine' to censure Israeli regime's brutal violence – including live fire — used against Palestinian protesters in occupied territories in recent days.