Discovery of mass grave of popular uprising forces in Panjshir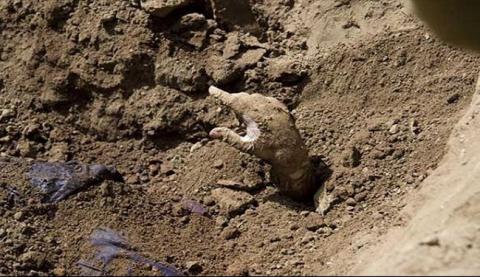 Ariana News Agency: Local officials in Panjshir province, as well as Saleh Mohammad Rigestani, one of the commanders of the Resistance Front, have announced the discovery of a mass grave of the bodies of the Front forces.
Maulvi Agha Mir, the Taliban's intelligence chief in Panjshir, confirmed to the media that he had discovered the mass bodies of those killed by Resistance Front forces.
According to Agha Mir, the mass grave was discovered in a village in Panjshir province and three bodies were exhumed.
Locals said that 8 bodies were found in mass graves and all of them are from Panjshir.
Meanwhile, Saleh Mohammad Rigestani, one of the commanders of the Popular Uprising Front, wrote on his Facebook page: "The discovery of mass graves in Panjshir has left people buried with their hands tied to the ground, something that even the Soviet Union did not do when it invaded Afghanistan."
He wrote: It is not yet known from Daikundi and other places of the millennium what other graves will be discovered.
It is worth mentioning that with the Taliban's domination of Afghanistan, a front called the Resistance Front led by Ahmad Massoud, son of Ahmad Shah Massoud, was formed in Panjshir province, where they stood against the Taliban for about 20 days.