Afghanistan President and His Rival Reached 'Tentative' Agreement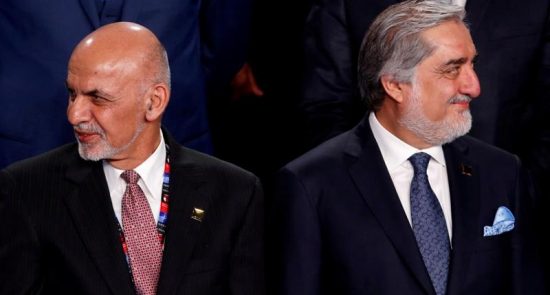 Dispute was huge distraction for Afghanistan when coronavirus crisis was worsening and Taliban was stepping up attacks.
Ariana News Agency-
A bitter feud between Afghan President Ashraf Ghani and his rival Abdullah Abdullah appeared closer to a resolution on Friday after Abdullah said the two men had moved forward in talks.
"We have made progress in negotiations and reached tentative agreement on a range of principles. Work on details is under way to finalise the agreement," Abdullah said on Twitter.
Abdullah previously served as Afghanistan's "chief executive" under a power-sharing deal with Ghani, but lost that post following last year's presidential elections that Ghani won amid claims of fraud.
Instead of accepting defeat, Abdullah proclaimed himself president, a title he uses to this day, though the international community only recognises Ghani.
The dispute has proved a huge distraction for Afghanistan at a terrible time, with the coronavirus crisis worsening daily and the Taliban stepping up attacks despite a deal they signed with the United States in February.
"We hope to finalise the political agreement at the earliest so that we can pay undivided attention to tackling COVID-19 pandemic, ensuring a just, dignified and lasting peace, and confronting the security and economic challenges in a spirit of national unity and solidarity," Abdullah tweeted.