Paris Flaming in Fire, Scorched by Flares and Tear Gas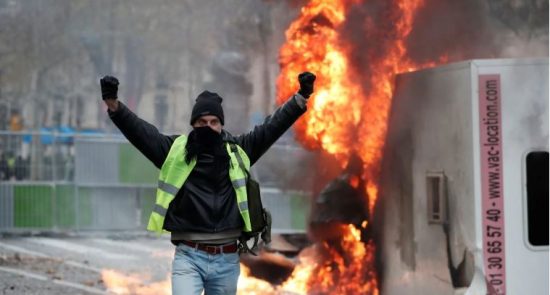 Emmanuel Macron has instructed his prime minister to hold talks with protest groups after anti-government demonstrations led to the worst violence in central Paris in a decade, with more than 100 people injured as cars and buildings were set alight.

Ariana News Agency- At least 110 people were injured, including 17 members of the security forces, and 270 arrests were made.
Protests over fuel tax have grown into general anger at higher living costs.
President Emmanuel Macron says his fuel policies are needed to combat global warming.
One person was in a critical condition after protesters pulled down an iron gate at the Tuileries garden near the Louvre museum, which fell on several people.
An assault rifle was also stolen from a police vehicle although it was unclear if it was loaded, AFP news agency quotes a police source as saying.
The French interior ministry said at least 75,000 people had turned out across France for the latest "gilets jaunes" (yellow vest) rallies – so called because the protesters donned the high-vis vest required to be carried in every vehicle by law.
Nearly 190 fires were put out and six buildings were set ablaze, the interior ministry said.