Danish Lambasted Taliban Group for its Duality in Afghanistan Peace Talks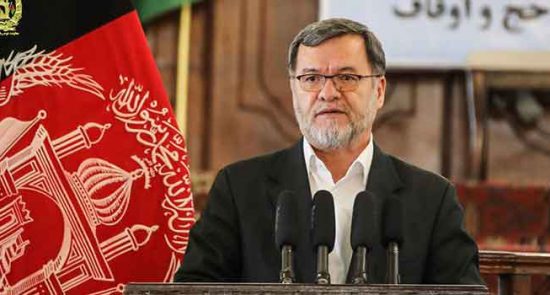 In his statements today Sarwar Danish addressed Taliban group and said they won't ever see the day of Afghanistan security and defense forces defeat.
Ariana News Agency-
Afgnaistan's Second Vice President Sarwar Danesh today in his inauguration speech to appoint the General Director of the High Office of Investigation in Kabul harshly criticized Taliban groups' dual and unstable stances in the process of Afghanistan peace talks.
He also pointed out to the yesterday's attack carried out by Taliban over an Afghan Army base, manned by some United States military personnel, in Helmand Province, Afghanistan and said the group will never see the day of our defeat.
"Taliban Group won't see its dream to come true to defeat Afghanistan security and defense forces. Our forces will fight till reaching to a stable and dignified peace for their country", Mr. Danish added.
While the fifth rounds of Peace negotiation between US and Taliban team are being held in Qatar, yesterday least 25 Afghan soldiers were killed in the gun battle with Taliban forces. At least nine Taliban militants were also reported killed, including three suicide bombers.
Any Compromise with Taliban Means Ignoring the Blood Thousands of Afghan Forces
Mr. Danish also pointed out to the Talia's continues criminal stance toward Afghanistan means to us ignoring the blood of thousand Afghan forces died by Taliban groups.
In his speech, the Second Vice President also pointed out to the election of 14 members for Electoral Commissioners and asked them to reinsure the missed reliability of Electoral Commissions.