Afghanistan's First Lady Rallying for Afghan Women, Including them in Peace Talks
For many women in Afghanistan, peace talks between the United States and the Taliban are evoking the darkest days of their lives, when the group stripped women of their most basic rights.
Ariana News Agency-
Washington Post: Ghani's wife, first lady Rula Ghani, has emerged as a powerful voice on the talks and women's role in them. She is working to become, as she says, "the little stone you put under the urn so it will not fall. This is what I do for Afghan women."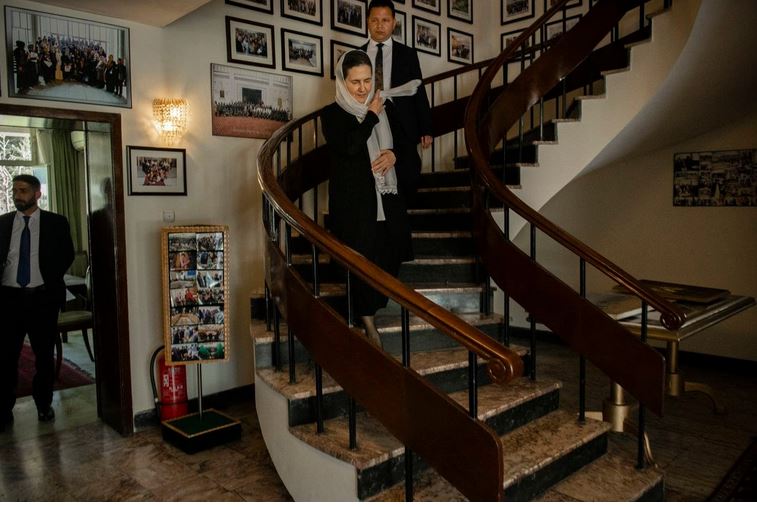 Her involvement has bolstered grass-roots movements around the country of women who insist, in the words of one popular hashtag, that Afghan women will not go back.
"I realized, that as first lady, I do have some privileges," Rula Ghani said in an interview in her chambers within the sprawling presidential palace in the center of Kabul, where security concerns have largely confined the 70-year-old to its scented gardens and cherry blossom-lined paths.
With women in government, women at universities, thriving rights groups and a capital city abuzz with young men and women in its cafes, the country has dramatically changed from the time of Taliban rule in the late 1990s.
The first lady wants women's voices to be heard in the peace process, pushing the dialogue beyond the unheeded calls by the United States and NATO for women to be at the table.
Afghan women activists say the stated focus of the U.S. peace talks — the withdrawal of foreign troops and efforts of counterterrorism — sideline them by definition. U.S.-Taliban talks in Doha, Qatar, have been marked by all-male photo sessions. Talks in Moscow between Afghan power brokers and the Taliban recently included two Afghan women at a 42-seat table.
And when U.S. envoy for peace Zalmay Khalilzad held a large high-level meeting in Kabul this month with the Afghan president and the top U.S. commander in Afghanistan, Gen. Scott Miller, not a single woman was present.
That might change Friday in Doha, where women will be present in the Afghan delegation announced Tuesday and in the Taliban group, a spokesman for the insurgent group said Monday. It was unclear whether the women from either side would participate in the talks.
When Khalilzad's American wife, the scholar Cheryl Benard, penned a recent op-ed about Afghan women, her views were widely seen as representing the U.S. diplomat instead. Writing for the Center for the National Interest in Washington, Benard said Afghan women should work hard for their rights, just as Western women did, and stop relying on foreign money and pity to do their bidding.
Afghan women could have their say at the upcoming loya jirga that the president has called, requesting that 30 percent of delegates be women, or in the presidential election slated for September.