Trump's Middle East Plan Dealt Another Blow With Israel Turmoil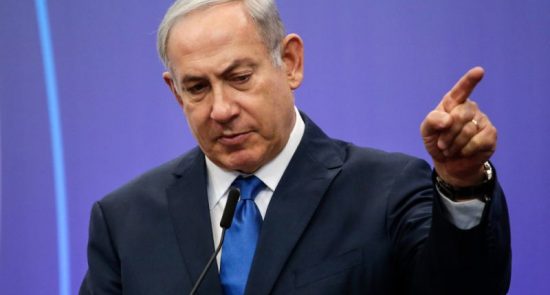 Israel's political turmoil isn't just a problem for Prime Minister Benjamin Netanyahu: It's the latest blow to President Donald Trump's hopes to unveil a grand Middle East peace plan his son-in-law has spent almost two years on.
Ariana News Agency- Netanyahu's coalition now holds a bare majority of 61 of 120 parliamentary seats after his political rival, Defense Minister Avigdor Liberman, pulled his faction out of the government Wednesday. If other parties leave the coalition — and some are already threatening to do just that — Israel could head into elections this winter even as Netanyahu is facing corruption probes in three different cases.
Israeli officials already had been urging the Trump administration not to release its proposal too close to the elections, afraid that a plan demanding concessions from Israel would hurt Netanyahu's chances when hard-liners already accuse him of being too soft on Hamas, the militant Palestinian group that rules the Gaza Strip.
After moving the U.S. embassy to Jerusalem and recognizing the city as Israel's capital, Trump said in August that the Palestinians will "get something very good" in his plan because it's now "their turn."
Regardless of how the U.S. proposal is pitched, there will be "some things in the plan the Israelis won't like, so the key is how to make sure that they are OK with the general tenor of the plan," said Dennis Ross, a former U.S. Mideast peace negotiator. Ross predicted that if elections in Israel come in the winter, the Trump administration may wait to make sure Netanyahu is re-elected before presenting the U.S. proposal.
Yet even before the latest developments, Trump was showing increasing frustration that the Israeli leader — with whom he's forged a close personal bond — wasn't doing more to help the plan overseen by son-in-law Jared Kushner come to fruition, according to two people familiar with the matter. Trump complained in recent meetings that Netanyahu hasn't been "flexible" or "forward-leaning" enough on the plan, one of the people said.
White House officials didn't immediately respond to a request for comment.
Some analysts, including Natan Sachs, director of the Center for Middle East Policy at the Brookings Institution in Washington, say there's now a chance the plan will never see the light of day. Support in the Arab world, as well as Israel, is essential to the plan's success.
Recent tensions between the U.S. and Saudi Arabia, which would be expected to play a key role in financially supporting the peace plan, haven't helped the proposal's prospects either.
Given the political turmoil in Israel, the government's flexibility on sensitive topics such as Jerusalem or Palestinian refugees will be very limited, particularly since Netanyahu may have to defend his right flank from a challenge by Liberman or other more conservative leaders like the Jewish Home party's Naftali Bennett.
Those rivals have accused Netanyahu of being too moderate on the Palestinian issue. Liberman resigned on Wednesday after the security cabinet on Tuesday agreed to a truce halting a two-day flare-up of fighting in Gaza. He called it a "capitulation to terrorism."
"I suspect that the prime minister has probably" told the Americans, "'Don't present the plan before elections because with this government I have little flexibility,"' Ross said. "'With this government, you'll turn it into political football. After the election I'll be able to broaden my government.' "
Netanyahu's Role
Netanyahu's office didn't respond to several requests for comment. The prime minister met Thursday with mayors of towns near the Gaza border who are angry that he didn't strike Hamas harder. His finance and interior ministers have urged the prime minister to call early elections.
Publicly, the Trump-Netanyahu relationship has been one of the strongest in recent history. Since taking office in January 2017, Trump has handed Netanyahu key victories without demanding anything in return.
The recognition of Jerusalem as Israel's capital and the move of the American embassy broke with decades of U.S. practice. Then, Trump quit the Iran nuclear deal negotiated during the Obama administration, which Netanyahu opposed from the start, and he's led an international campaign to pressure Tehran by reimposing sanctions.
'Ultimate Deal'
At the same time, Trump has expressed eagerness to do what no president before him has managed to pull off — the "ultimate deal" of Middle East peace, drafted by his Jewish son-in-law. At a meeting with Netanyahu in September at the United Nations, the U.S. president said he would like to release the plan in "two to three to four months, something like that."
But Trump's decision on Jerusalem essentially ended Palestinian participation in U.S. talks. Palestinians have long sought to make east Jerusalem their capital. While Trump administration officials maintained that they weren't precluding any final decision on the city, preemptively recognizing the holy city as Israel's capital drew international condemnation.
He's since gone further, slashing aid to Palestinian refugees and the Palestinian Authority.
After decades of the U.S. publicly saying it wanted to be an honest broker in the Israel-Palestinian crisis, part of the problem for Netanyahu is that Trump's policies have been perceived to be so pro-Israel that any plan viewed as conciliatory toward the Palestinians could disappoint the prime minister's political base. Israelis have grown accustomed to Trump backing them at every turn.
To avoid damaging relations with the Trump administration, Netanyahu would need to give a "qualified yes" to any plan that's announced, saying he's open to negotiations with some reservations, according to Sachs of Brookings.
"Trump has been so much in Netanyahu's corner that every deviation toward the mean will sound like an ominous move from the Trump administration," Sachs said.