Pompeo Makes a Stealthy Visit to Baghdad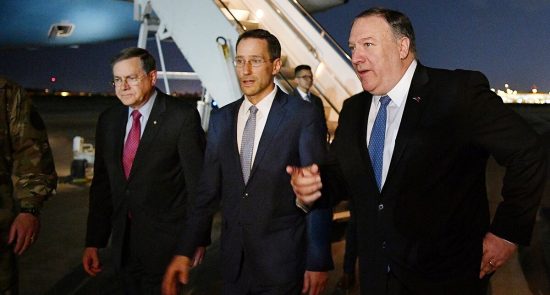 U.S. Secretary of State Mike Pompeo made an unannounced visit to Baghdad on Tuesday and met with the Iraqi prime minister after telling reporters the United States was concerned about Iraqi sovereignty because of increasing Iranian activity.
Arinan News Agency-
U.S. Secretary of State Michael R. Pompeo made a lightning visit Tuesday to Baghdad aimed at showing support for the Iraqi government as the United States has been picking up intelligence that Iran is threatening American interests in the Middle East.
The top American diplomat's unannounced trip to the Iraqi capital began and ended after nightfall under heavy security following the abrupt cancellation of a visit to Germany.
Journalists from the Associated Press and other organizations accompanying Pompeo were not told of his new destination until his plane left for Baghdad and were not allowed to report on his whereabouts until after his plane had taken off for London.
The secretary told reporters on the flight that his meetings with Iraq's president and prime minister were intended to demonstrate U.S. support for "a sovereign, independent" Iraq, free from the influence of neighboring Iran.
Pompeo also said he wanted to underscore Iraq's need to protect Americans in the country.
"We wanted to let them know about the increased threat stream that we had seen and give them a little bit more background on that so they could ensure that they were doing all they could to provide protection for our team," he said. "They understood, too, it's important for their country."
Pompeo's visit came as the Trump administration intensified its pressure campaign against Iran. The U.S. said this week that it was rushing an aircraft carrier group to the Middle East to deter or respond to any Iranian attack.
U.S. officials have said there were indications Iran was planning to retaliate for the Trump administration's stepped-up sanctions on the country, although the threat information remains vague.
Pompeo would not be specific about the more recent threat information involving Iran except that it involved "imminent" plans for attacks. "We're taking every action to deter them," he said. "Other than that, I just can't say any more."