'It gets real personal, real fast': Dems Fear Targeting Trump Kids Could Backfire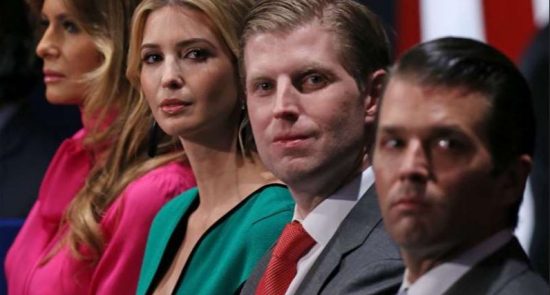 House Democrats have already gone to war with President Donald Trump. But there's one target they're skittish of hitting too hard: his children.
Ariana News Agency-
Politico- In public and private, Democrats see potential pitfalls in dragging Trump's adult children into their political squabbles with the president. So even as they ramp up their investigations into Trump, senior Democrats are reluctant to zero in too much on Trump's adult children as part of their sprawling probes into Trump's administration, campaign and business empire.
Democrats, in fact, would prefer to let federal prosecutors handle the family while they take on the president themselves.
Yet Trump's family members — including Donald Jr., Eric, Ivanka and son-in-law Jared Kushner — are so deeply involved in his business and his presidency that it will likely be impossible to take a completely hands-off approach.
"Getting to family members I think is dangerous," said Rep. Gerry Connolly (D-Va.), a senior member of the House Oversight and Reform Committee. "Only because it gets real personal, real fast. And it risks backfiring."
"Maybe at some point we have to call them in," Connolly added, "but I'd rather let prosecutors look at that."
Those concerns have more to do with political optics than investigative necessities: Democrats fear that the appearance of going after Trump's children is the one thing that could elicit sympathy for a president who has attacked their investigations as "a big, fat, fishing expedition desperately in search of a crime" and "presidential harassment."
A Democratic source said Oversight committee chairman Elijah Cummings (D-Md.) has privately expressed reservations about directly investigating Trump's adult children. Last week Cummings said the committee would follow up on all potential leads from former Trump attorney Michael Cohen's bombshell testimony before the committee. Cummings is expected to seek interviews with individuals implicated in Cohen's testimony.
Cummings declined to comment.
The Oversight panel is battling with the White House over the process for approving Kushner's security clearance, including whether Trump intervened in getting the clearance approved. The White House has refused to turn over documents related to Kushner's clearance, and the committee is likely to issue a subpoena as early as next week, according to Democratic sources. Ivanka Trump could soon find herself ensnared in that probe, the oversight chief said.
Moreover, the House Judiciary Committee has demanded documents from Kushner, Donald Trump Jr., Eric Trump and dozens of others as part of a sweeping probe into allegations of obstruction of justice, corruption and abuses of power.
Cohen gave lawmakers a roadmap for their myriad investigations into Trump and his inner circle. He name-dropped several individuals who purportedly have knowledge of crimes he has pleaded guilty to, and crimes that he says the president committed.
That list includes three of the president's adult children in addition to longtime Trump Organization chief financial officer Allen Weisselberg and former Trump campaign manager Corey Lewandowski, among others.
The White House declined to comment.
Georgia Rep. Doug Collins, the top Republican on the Judiciary Committee, backed the president's criticisms of the congressional investigations and said Democrats are overreaching not just with Trump's children, but with the entire inquiry.
"I think they need a whole reassessment of what they think looks bad. What looks bad is coming up with a conclusion and then trying to find the facts that fit it," Collins said in an interview.
Democrats have expressed great interest in Trump Jr. given his deep involvement in and knowledge of several aspects of his father's campaign and finances, and he has already testified before the House Intelligence Committee and Senate Judiciary Committee in closed session. But many House Democrats are urging caution when it comes to Trump's adult children who do not serve in the government. Jared Kushner and Ivanka Trump both serve as senior advisers to the president and are subject to congressional scrutiny like any other government official.
"We have to distinguish members of the Trump family who are actually in the government or playing public roles, from those who are not," Rep. Jamie Raskin (D-Md.), a member of the Oversight Committee, said in an interview. "As for Trump family members who are not members of the administration or taking decision-making roles, they should only be called if there's a compelling reason that goes to questions of public importance and public policy."
But Trump Jr., who does not have an official position in the Trump administration, is still of interest to Democratic investigators given Cohen's characterizations of the president's eldest son's alleged involvement in hush-money payments and other incidents that are central to ongoing federal inquiries.
For that reason, some Democrats believe Trump Jr. is fair game — and they aren't worried about how is plays in political spheres.
"Don Jr. is right in the middle of all of this. … He's like everywhere. And certainly in that case I think he would be fair game for questions," said Rep. Raja Krishnamoorthi (D-Ill.), a member of the Oversight and Intelligence committees. "In his case, he is a material witness."
Cummings has been tight-lipped about his intentions with Trump's adult children and others implicated in Cohen's testimony, and members of the committee said in interviews that they would defer to the chairman despite their strong feelings.
"Congress doesn't have the right to prosecute. We have the right to ask questions. And if asking questions offends somebody, then I think their sensitivity is a little bit too high," added Rep. Stephen Lynch (D-Mass.), a senior member of the Oversight panel.