Iraqis, Bristling over Israeli Airstrike, Renew Call for U.S. Troops to Get out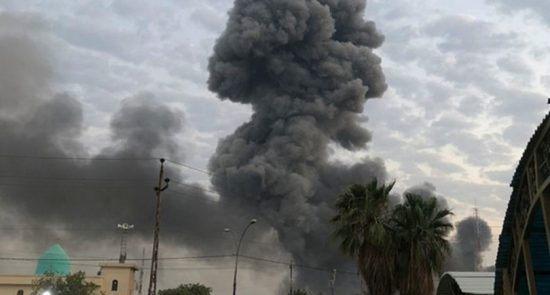 News that Israel was behind airstrikes in Iraq has reinvigorated calls to oust U.S. forces from the country.
Ariana News Agency-
A U.S. official confirmed Friday that Israel had struck a base for the Hashd al Shaabi, an umbrella group of Shiite-dominated militias also known as the Popular Mobilization Forces, many with deep links to Iran. Two Iranian commanders were reported killed in the attack, which occurred in July.
It was unclear whether Israel was behind three other explosions that have destroyed militias' weapons depots in Iraq.
The confirmation coincided with an edict from Grand Ayatollah Kazem Haeri, a powerful Iraqi cleric based in Iran who is thought to be a mentor to some of Iraq's top militia leaders. He blamed both Israel and the U.S. for the attack and proscribed American troops' presence in Iraq.
"I declare it is forbidden for any American military force or its ilk to remain in Iraq under any pretext: whether for military training and advising, or for counter-terrorism," Haeri said in a statement issued from the Iranian city of Qom.
Haeri's statement followed similar condemnations from the deputy head of the Popular Mobilization Forces, Jamal Jaafar Ibrahimi (better known by his nom de guerre, Abu Mahdi Al Muhandis), who accused U.S. forces on Wednesday of conducting reconnaissance on Hashd bases and bringing in Israeli drones for the strikes.
The U.S. official who confirmed the strike said Washington "strongly supports Israel's right to self-defense," adding, "the United States condemns the Iranian regime's provocative actions in Iraq." The official was not authorized to speak publicly, and spoke on condition of anonymity.
There are roughly 5,000 American troops stationed across Iraq, providing training, assistance and advice to Iraq's security forces.
During the fight against Islamic State, U.S. troops even cooperated — albeit uneasily — with the Hashd, which was formed as an all-volunteer force in 2014 to counter the extremist threat. It has since become a formal part of Iraq's armed forces.