Afghanistan Helmand the Main Province in Opium Production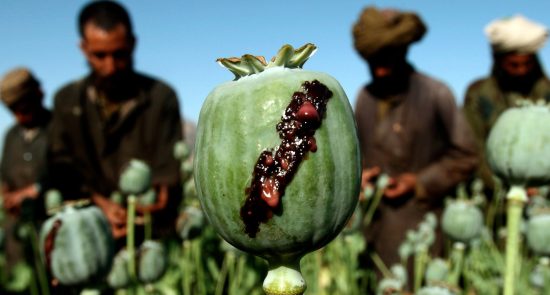 Helmand province in Afghanistan hit the first place in opium production, 136 thousand hectares, around 24 kg production per hectare in 2018.
Ariana News Agency-
In line with combating drug cultivation, the Helmand province in Afghanistan perused the greatest farming plan in food production . But how this plan helped more cultivation of opium in the country instead of other crops?
The drug cultivation is an essential part of the Afghan economy. As statistics show the drug cultivation annually reaches 2 to 6 million dollars in the country. What happened to the Helmand food production plan proved that the there is a direct connection between opium production and alternative crops with same prices.
In 2009, the wheat price increased while the opium price dropped off under $40 per kilogram which resulted in more wheat cultivation and less opium production. While in 2017 the opium price reached $155 which led to increase in its production. The issue encouraged the farmers to let go of food crops and rely more on opium production.
Also, in the Helmand food region, the farmers were granted different facilities for promoting crops cultivation which led to more tendency toward opium cultivation and decrease in its price.
The drug farming affects the relationship between Afghanistan people and Taliban
The Drug cultivation affects the relationship between the Afghan people and the Taliban in two ways;
first, the government's opposition toward drug cultivation leads to less support from its people.
Second, as Taliban support drug cultivation, people urged more toward farming in Helmand area as it means more advantages for them. Thus, with the support of drug cultivation in Helmand region, Taliban gains more power and financial resources.