Pakistan calls on Afghan Taliban to join peace process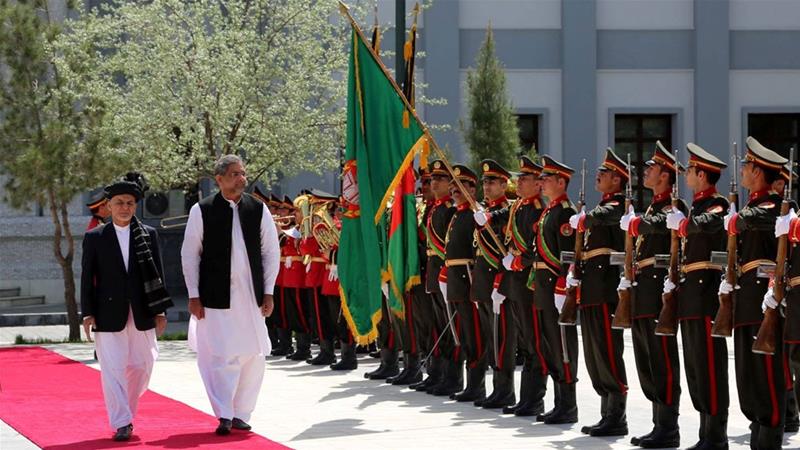 Prime Minister Shahid Abbasi urges Taliban to avail the Afghan government's latest offer of direct talks without delay.
Islamabad – Pakistan and Afghanistan have called upon the Afghan Taliban to join a new peace process in the war-torn country, after a visit by the Pakistani prime minister to his country's northwestern neighbour, a statement said.
Pakistani Prime Minister Shahid Khaqan Abbasi and Afghan President Ashraf Ghani called upon the Taliban to avail the Afghan government's latest offer of direct talks without delay, according to a statement released by the Pakistani PM's office late on Friday.
"Both leaders called on the Taliban to respond positively to the peace offer and join the peace process without further delay," said the statement. "They agreed that there was no military solution to the ongoing Afghan conflict and that the political solution was the best way forward."
In February, Ghani offered to reopen negotiations with the Afghan Taliban "without preconditions", despite ongoing attacks.
He offered to recognise the group as a political party, and proposed a ceasefire and exchange of prisoners in a bid to begin a process that could end more than 16 years of war.
The Taliban have not yet officially responded to that offer.
A previous attempt at direct negotiations between the Afghan government and Taliban leadership – supported by Pakistan, the United States and China – fell apart in 2015, after news of the death of then Taliban chief Mullah Muhammad Omar leaked to the press.
Easing tension
Abbasi met Ghani and Afghan chief executive Abdullah Abdullah during his day-long visit to the Afghan capital Kabul. He also met Hizb-e-Islami chief Gulbuddin Hekmatyar.
The Pakistani prime minister's visit was aimed at reducing tensions between the neighbours, both of whom accuse each other of allowing armed groups to use their soil for attacks on the other.
Afghanistan has long alleged that Pakistan allows the Afghan Taliban and Haqqani Network leadership to find safe haven on its soil. Pakistan accuses Afghanistan of not doing enough against Pakistan Taliban fighters allegedly based in the Afghan provinces of Nangarhar and Kunar.
Both sides deny the allegations.
On Friday, Pakistani Prime Minister Abbasi announced a gift of 40,000 tonnes of wheat for the Afghan people, and pledged to waive an additional regulatory duty on Afghan exports to Pakistan, a statement from his office said.
The two sides also pledged to move forward on a number of economic and infrastructure initiatives that would increase rail, road and gas pipeline links between them, Pakistan's foreign ministry said.
An Afghan foreign ministry statement on the meeting, however, was more circumspect, saying only that the two sides pledged to operationalise a new framework for dialogue between them, dubbed the Afghanistan-Pakistan Action Plan for Peace and Solidarity (APAPPS).
"The two countries to avoid public blame games and instead use APAPPS cooperation mechanisms to respond to mutual issues of contention and concerns," read the Afghan statement.
Asad Hashim is Al Jazeera's Web Correspondent in Pakistan. He tweets @AsadHashim.