French fuel protests against Macron over rising prices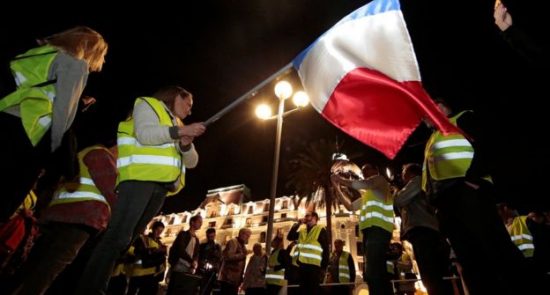 Drivers plan to disrupt traffic across France on Saturday by blocking roads, bridges and toll booths in a mass protest at rising fuel prices.
Ariana News Agency- Dubbed the "yellow vests" after the high-visibility jackets they use as their symbol, they are expected to muster in at least 700 locations.
They accuse President Emmanuel Macron of abandoning "the little people".
Mr Macron admitted this week that he had not "really managed to reconcile the French people with its leaders".
Nonetheless, he accused his political opponents of hijacking the movement in order to block his reform programme.
Officials have warned that, while they will not stop the protests, they will not allow them to bring the French road network to a standstill.
Why are drivers on the warpath?
The price of diesel, the most commonly used fuel in French cars, has risen by around 23% over the past 12 months to an average of €1.51 (£1.32; $1.71) per litre, its highest point since the early 2000s, AFP news agency reports.
World oil prices did rise before falling back again but the Macron government raised its hydrocarbon tax this year by 7.6 cents per litre on diesel and 3.9 cents on petrol, as part of a campaign for cleaner cars and fuel.
The decision to impose a further increase of 6.5 cents on diesel and 2.9 cents on petrol on 1 January 2019 was seen as the final straw.
Speaking on Wednesday, the president blamed world oil prices for three-quarters of the price rise. Interior Minister Christopher Castaner argued that the fall in world oil prices would compensate for the tax increase.
District nurse Philippe Salmon, who backed Mr Macron in last year's presidential election, is now a passionate "yellow vest", AFP news agency reports, who drives around in a yellow car in the Gironde region as if to prove his point.
"The president says he is de-taxing work but what's going on for all those who need a car for work?" he asked earlier this week.
Mr Salmon, who says he never went on a demonstration before, predicts that tractors will be blocking roads in the Bordeaux area on Saturday.
Yellow Vests tried to protest last week when President Macron visited the northern town of Albert, and were moved on by police.