France Fuel Protests: Police Fire Tear Gas at 'Yellow Vest' Protesters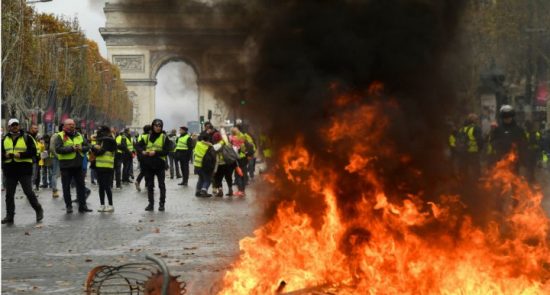 History shows that when taxes are not accepted, that starts revolutions in France.
Ariana News Agency- Anti-government protesters clashed with French police on the Champs-Elysees in Paris on Saturday, leaving the area cloaked in tear gas and smoke from fires on a fresh day of demonstrations against President Emmanuel Macron.
Demonstrators wearing the yellow, high-visibility vests that symbolise their movement threw projectiles at police preventing them from moving along the famed shopping avenue, which was decked out in twinkling Christmas lights.
They also built barricades in some spots, and tore down traffic lights and street signs, creating riotous scenes reminiscent of France's 1968 civil unrest, or street insurrections in the mid-19th century immortalised in paintings and movies.
Police arrested 130 people, 69 of those in Paris, and 24 people were injured, five of them police officers including one who suffered burns to his groin, the city police department and Interior Minister Christophe Castaner said.
Elsewhere, protesters took over highway toll booths to let traffic pass for free, or held go-slow vehicle processions, underlining one of their core complaints of escalating taxes on car fuel, especially diesel.
Macron, targeted by protesters' calls that he resign, took to Twitter to thank police.
"Shame" on those who assaulted or intimidated citizens, journalists and politicians, Macron said. "There is no place for violence in the (French) Republic."
Calm returned to the streets of the capital after midnight on Saturday, with the Champs-Elysees reopening to traffic.
The clean-up operation also got under way as garbage trucks were deployed and workers removed barricades along the famous avenue.