France "Yellow Vests" Unrest Repeated in Brussels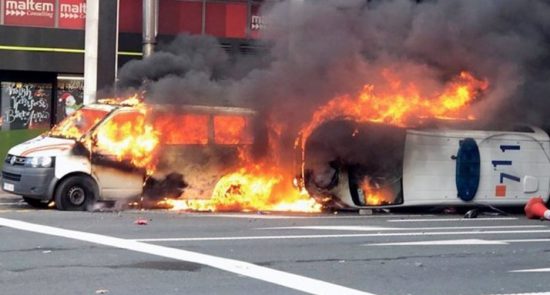 Brussels has been stormed by riot police as massive protests known as the "Yellow Vests" have caused chaos in the capital of Belgium.
Ariana News Agency- Police made dozens of arrests and protesters destroyed at least two police vans as what started as a peaceful but unauthorised demonstration.
What Caused the Unrest
Lacking clear leadership and largely promoted on social media, the march descended into violence when people, many masked or hooded, tried to breach police lines.
For three hours, crowds complaining about fuel prices and a squeeze on living standards had disrupted traffic and walked the streets.
Police said they had arrested about 60 people before the violence, mostly for blocking roads or carrying large fireworks.
Several hundred people wearing the fluorescent safety vests drivers must carry in their vehicles eventually converged on the office of Prime Minister Charles Michel.