Middle East Pummeled by Frequent Rounds of Flooding Rain, Severe Weather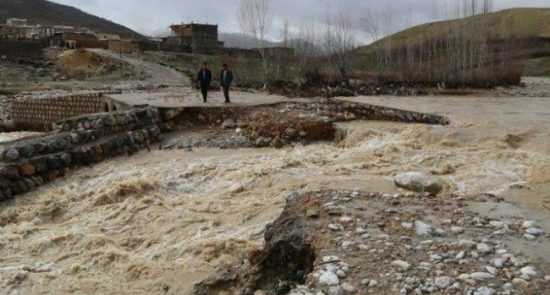 As people around the globe battle the coronavirus pandemic, rounds of deadly flooding have gripped parts of the Middle East.
Ariana News Agency-
The latest in a series of storms moved into the Middle East on Friday and swept across the region into Monday. The storm spread periods of rain and thunderstorms from the eastern Mediterranean coastline to the northern Arabian Sea.
The frequent rounds of heavy rain caused rivers to swell and floodwaters to fill streets in parts of the Middle East into the beginning of the week.
Rainfall totals of 50 mm (2 inches) through the duration of the storm were common across the region with higher amounts reported in areas that endured prolonged and repeated downpours.
Kahnooj, Iran, reported 144 mm (5.67 inches) of rain from Sunday into Monday. In Kandahar, Afghanistan, 170 mm (6.69 inches) of rainfall was recorded in just 24 hours.
Floodwaters rushed through Iran's southern provinces on Sunday, including Hormozgan, Fars, Bushehr, Qom, Gilan, Kerman and Sistan and Baluchestan. Iran's emergency spokesperson, Mojtaba Khaledi, announced that at least four people were killed and another three are still missing.
Thunderstorms that developed along the Persian Gulf turned severe throughout the weekend and into the beginning of the week.
A severe thunderstorm rolled through Dubai, United Arab Emirates, on Saturday evening and unleashed heavy downpours, strong winds, frequent lightning and hail.
On the northern side of the storm, colder air brought periods of accumulating snow to parts of eastern Turkey into the beginning of the weekend.
Just days before the arrival of this storm, floodwaters swept through parts of Iraq.
Outside of a few stray showers and thunderstorms, this week is forecast to be dry across the Middle East. However, by the end of the week, a storm is forecast to bring another round of rain and storms to the region.