Kurds and Turkey Accuse Each Other of Cease-Fire Violations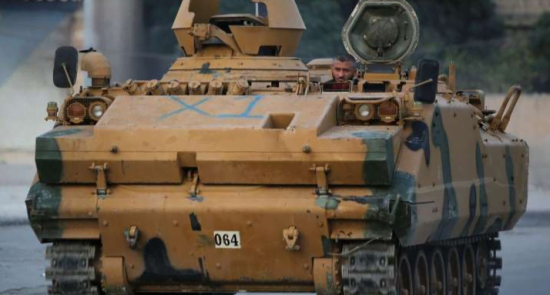 Kurdish forces and Turkey traded accusations of violating a cease-fire agreement between Washington and Ankara on Saturday, as scattered fighting in northeastern Syria began to subside, according to local activists.
Ariana News Agency-
A tense calm took hold after sporadic fire from machine guns, mortars and artillery targeted Ras al-Ain and its surrounding areas. In Tal Tamar, a small town south of Ras al-Ain, members of the Kurdish militia known as the YPG burned tires to obscure visibility for hovering Turkish drones.
Turkey allowed one convoy of ambulances and cars to evacuate some 30 injured people from the besieged Ras al-Ain to Tal Tamar, the activists said.
The Kurdish-led Syrian Democratic Forces accused Turkey of failing to comply with the pact it struck with the U.S. two days ago to suspend its military incursion into Kurdish-held areas for 120 days in exchange for the Kurds' withdrawal from a buffer zone on the Syria-Turkey border.
The SDF said Turkish strikes had killed at least 20 civilians and 14 of its fighters since the truce was announced. It couldn't be determined whether Saturday's strikes were carried out by Turkey or allied Syrian rebel groups on the ground.
Turkish officials said Turkish troops were fully compliant with the truce agreement. They accused the SDF and YPG forces of repeated violations, saying Kurdish fighters had conducted 16 attacks ranging from sniper shots to rockets.
"We have not attacked, we are standing down," Turkey's presidential spokesman, Ibrahim Kalin, told The Wall Street Journal late Saturday. "We are giving them a chance to leave."
Mr. Kalin said Turkey was counting on the U.S. to use its leverage over Kurdish forces to enforce a smooth withdrawal. "We don't deal with the YPG, we deal with the Americans, so it's their responsibility," he said.
U.S. officials said the Trump administration, which has withdrawn its troops from combat areas, has been actively involved in trying to ensure that the agreement is a success. The Kurds were allied with the U.S. in the fight against Islamic State but Ankara regards them as a terrorist threat.
"The United States is continuing to talk to both sides to ensure that the pause is adhered to and Kurdish forces safely withdraw from the Turkish-controlled safe zone," said one U.S. official.
Ras al-Ain has emerged as a key test for the cease-fire deal's viability. The Kurds agreed to the cease-fire, but so far have refused to withdraw from the roughly 20-mile border belt.
Ras al-Ain, known as Sarikani in Kurdish, has been the scene of fierce battles between Kurdish-dominated forces and Syrian rebel groups. It sits on a crossroads on the frontier between Syria and Turkey.
By capturing it, along with the towns of Ain Issa and Tal Abiad, Turkey would cut Kurdish-held territory in half, isolating the western Kurdish pockets from those in the east, said Elias Hanna, a military analyst at the American University of Beirut. Such control would also provide Turkey with a vital supply line for operations in northeast Syria.
"We know very well…what we want," Mr. Erdogan said in a speech on Saturday. "If it happens, it happens, if not, the minute that 120 hours end, we will continue from where we left it and keep on crushing the heads of terrorists."
Mr. Erdogan said he spoke with President Trump the previous evening on Turkey's position. "I said that in my conversation with Mr. Trump."
The SDF called Saturday on Vice President Mike Pence, who negotiated the deal with Mr. Erdogan, to enforce it and allow for a safe corridor to evacuate the injured.
"Based on the cease-fire agreement there was supposed to be a corridor to evacuate the wounded and civilians trapped in Ras al-Ain but that condition was not implemented," Redur Khalil, a spokesman and senior SDF official told The Wall Street Journal. "The American side, which is the guarantor of the cease-fire was indifferent to this matter despite repeated contacts with American officials."
Jamila Hamid, a nurse in Tal Tamar who has for days been treating injured people from Ras al-Ain, said there was an urgent need for the international community to secure a humanitarian corridor. Even after the cease-fire was announced, the flow of injured and dead to her hospital hadn't stopped, she said.
The Turkish campaign marks a pivotal moment in the Syrian war, as the U.S. withdrawal from the region has created a vacuum for the government of Bashar al-Assad and his allies, Russia and Iran, to fill.
Mr. Erdogan will meet his Russian and Iranian counterparts Tuesday, coinciding with the end of the cease-fire, to discuss their respective interests in Syria. The discussions will likely focus on agreeing to take control of different parts of northeastern Syria, including deploying Russian and Syrian government forces to areas on the border currently controlled by the Kurds.