Court Sentenced Noristani to More than One Year Imprisonment and Fine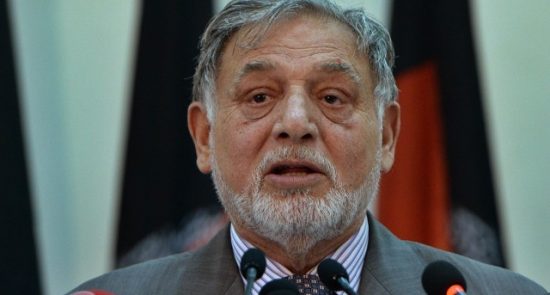 A primary court in Kabul sentenced Ahmad Yusuf Nuristani to 13 months' imprisonments and AFs1 million fine for Bribery. 
Ariana News Agency-
The former head of the Independent Election Commission (IEC), former governor of Herat and an incumbent member of Afghanistan's Meshrano Jirga, the Upper House of Parliament, to one year and one month jail term and AFs1 million fine.
The case prosecutor Payenda Adil said Nuristani had received AFs1 million through bullying from the former chairman of Milli Bus Enterprise while he was serving as the governor of western Herat province. He said the allegations against Nuristani have been proven following investigations.
"Based on article 396 and code 17 and paragraph 237 of the criminal law, the jury has decided to hand Ahmad Yusuf Nuristani, son of Ahmad Khan, to one year and one month jail term and the repayment of one million Afghanis," said Sher Aqa Munib, a judge at the court of the Anti-Corruption Criminal Justice Center (ACJC), which is assessing corruption cases that involve high-ranking officials.
"We are not satisfied with the verdict," said Jaber Ahmad Akbari, another defense attorney of Nursitani.
Documents received by TOLOnews show that Nuristani was accused of misusing his authority twice while governor in Herat and was summoned to appear before the ACJC court in connection with the allegations but he failed to do so.
The documents show that the ACJC has issued arrest warrants against Nuristani in many occasions but that the Ministry of Interior failed to take Nuristani into custody.
According to the documents, Nuristani was twice summoned by the ACJC to respond to the allegations but when he failed to appear they issued arrest warrants.
The documents state that the ACJC warned police that if they do not arrest Nuristani, then the ACJC will make a decision based on the Criminal Procedure Code.