Who could replace Theresa May?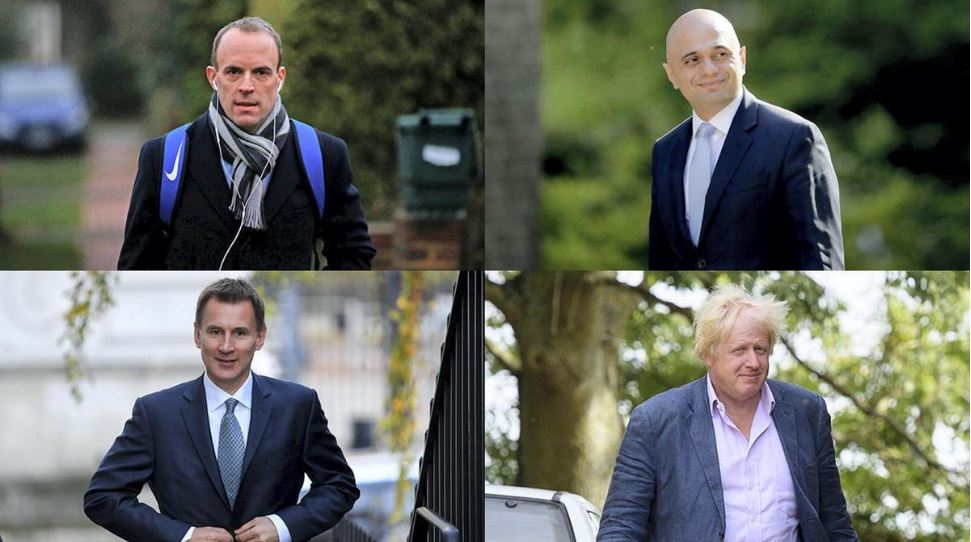 Boris Johnson, Sajid Javid, Dominic Raab and Jeremy Hunt have all been tipped for the top job in British politics.
Ariana News Agency – British Prime Minister Theresa May is to face a no-confidence vote later on Wednesday.
If she wins the vote, she can continue as leader, but if she loses, a leadership contest will ensue.
But who are the likely candidates? We have compiled a list of most likely to the least.
1. Dominic Raab
Brexiteer Dominic Raab is likely to be the youngest potential candidate for leadership at 44.
The MP for Esher and Walton served a four-month stint as Brexit secretary this year following the resignation of his predecessor David Davis.
However, he too resigned in November in protest at the prime minister's Brexit deal, saying it would be "even worse" than staying in the EU.
Liked by Eurosceptics in his party, Mr Raab is currently one of the favourites for the top job.
Since his resignation, Mr Raab has avoided openly calling for a change of leadership. Although when asked at the weekend whether he would stand if Mrs May were to leave, he said he "wouldn't rule it out".
2. Boris Johnson
Former foreign secretary Boris Johnson has long been tipped for the top job.
A Leave campaigner in the 2016 referendum, Mr Johnson considered running for leader when then prime minister David Cameron resigned, but was betrayed by his ally, Michael Gove, who stood instead. Mr Gove was later defeated by Mrs May.
Mr Johnson was given a place in Mrs May's cabinet as foreign secretary, but quit in July this year in protest at her Brexit strategy.
The MP for Uxbridge and South Ruislip, 54, has spent the past few months openly criticising the prime minister.
He has consistently refused to deny that he will try to become leader when asked in recent interviews.
However, Mr Johnson is not popular among his fellow Conservative MPs, some of whom have said they would leave the party if he won.
3. Sajid Javid
Home Secretary Sajid Javid voted Remain in the 2016 Brexit referendum, but has since said he supports leaving the EU.
Mr Javid, 49, has publicly supported the prime minister's Brexit deal, but is still seen as a serious candidate to replace her if she is ousted.
The MP for Bromsgrove in Worcestershire currently occupies one of the top jobs in the cabinet. He was promoted to the role following the resignation of Amber Rudd over the Windrush scandal.
He said on social media on Wednesday that a leadership election would be "self-indulgent" and gave Mrs May his full backing.
As a highly ambitious member of the cabinet, it is probable that he would throw his hat into the ring should she lose the no-confidence vote.
If chosen, he would become the first prime minister of the UK of Muslim heritage.
4. Jeremy Hunt
Foreign Secretary Jeremy Hunt is one of the few Remain-supporting MPs to be considered as a leadership challenger.
Mr Hunt served as health secretary under successive Conservative governments, during which time he was heavily criticised by NHS workers and faced strikes by junior doctors.
His time at the Foreign Office following the resignation of Boris Johnson has been smoother, however, and he is rated highly by a number of his Conservative colleagues.
The MP for South West Surrey, 52, has given his backing to the prime minister, but as an experienced minister, he should not be ruled out as a contender to replace her.