Rockets strike Kabul as Afghan president speaks at Eid prayer ceremony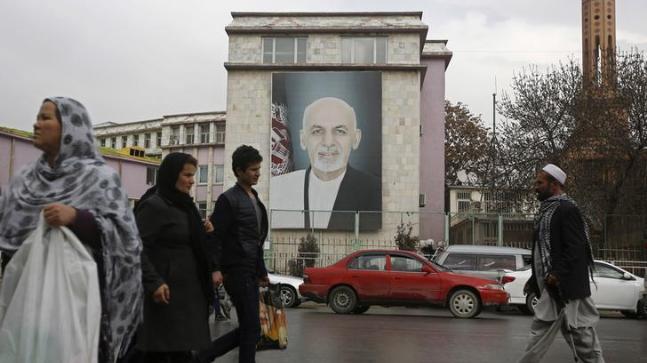 This comes two days after Afghan president Ashraf Ghani (in poster) declared a "conditional ceasefire" with the Taliban.
A number of blasts were heard in Afghanistan's capital Kabul on Tuesday, newswire Reuters quoted a security official as saying. At least nine rockets were fired, as officials said fighting had broken out between security forces and militants in the city's old quarter.
Reports said the blasts were heard as president Ghani was speaking during an Eid prayer ceremony.
At least two people have were killed by security forces, reports claimed. Two people were injured, AFP reported.
Reports said a group of insurgents in a truck launched rockets at the Presidential Palace from the Eidgah mosque area in Kabul.
An AFP reporter could see helicopters and smoke above the Eidgah Mosque in Reka Khana district, and a heavy security presence near the Kabul Stadium.
"This morning a group of terrorists took over a building in Reka Khana and fired several rockets towards Kabul," interior ministry spokesman Najib Danish told AFP. "Two people have been wounded. Security are fighting the terrorists."
"There are groups that continue the violence and with firing of rockets they cannot stop the people of Afghanistan's development," Ghani said in response to rocket attacks.
As per the security official, some rockets fell in the presidential palace, around the embassy compounds and government buildings.
On Monday, the Taliban had rejected Afghanistan government's call for peace offer for a ceasefire and vowed to continue its attacks against the government and its foreign allies.
Last week, a suicide bomber from ISIL blew himself up in front of an education center in Kabul, killing 34. Wednesday's attack in the Shia neighbourhood of Dasht-e-Barchi left dozens more injured.