Hours after US-Taliban Deal; At least 16 Dead in Suicide Attack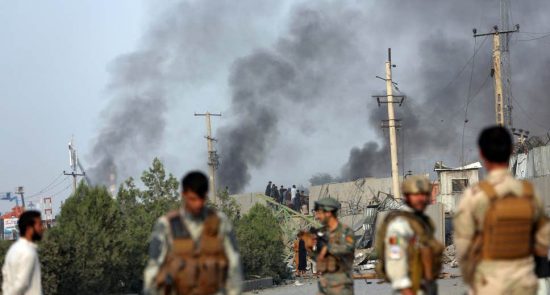 A major Taliban suicide attack on an affluent area of Kabul has killed at least 16 people and injured more than 100 others.
Ariana News Agency-
The attack came just hours after the US said it had agreed a deal "in principle" with the Taliban for the withdrawal of around 5,000 troops from Afghanistan.
An interior ministry spokesman said security forces had shot and killed five attackers who were attempting to storm the Green Village compound, an area full of international NGOs that has frequently been targeted by the Taliban.
The attack began late on Monday night when a tractor rigged with explosives hit the compound's western wall, causing significant damage and destroying a number of nearby homes.
Thick black smoke could still be seen rising from the area on Tuesday morning, according to the Associated Press. Some of the fires were reportedly started by protesting Afghan locals, angry at being caught in the middle of the conflict.
The spokesman, Nasrat Rahimi, said some 400 foreigners had been rescued in the wake of the attack.
The Green Village was previously hit by a suicide car bomber in January. That attack also coincided with a development regarding America's role in the country, as the US envoy was visiting the capital to brief the Afghan government on his negotiations with the Taliban on ending America's longest war.
Hours before Monday's attack, Zalmay Khalilzad showed a draft deal to the Afghan president after declaring that they are "at the threshold of an agreement" following the end of the ninth round of US-Taliban talks in Qatar.