FM Rabbani's Statement At The 18Th Mid-Term Ministerial Meeting of NAM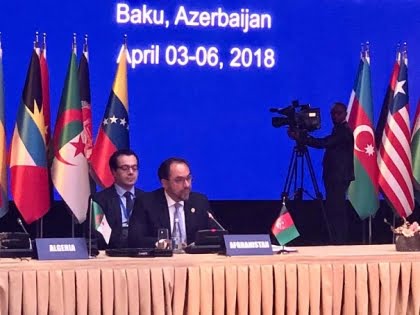 We look forward to Azerbaijan's Chairmanship of the NAM for the Period 2019-2022. We also thank the Bolivarian Republic of Venezuela for its able leadership of NAM.

Today, we come together to take stock of progress on commitments made at our Summit meeting in Margarita.
In this period of time, the difficult challenges in the global landscape have not only persisted, but also exacerbated.
Calamities in the form of conflicts, regional tensions, poverty and the devastating effects of terrorism have grown in scope, including those of NAM member-states.
In that connection, it is evident that security, stability and prosperity prevail in environments where the tenets of unity, co-existence, solidarity and cooperation are adhered to in their truest form and essence.
At this point in time, what is needed is a renewal of our commitment to revitalize and consolidate these principles for our collective benefit and more broadly, for the benefit of humanity as a whole.
We very much welcome the theme chosen for this Ministerial Meeting – "Promoting international peace and security for sustainable development."
For Afghanistan, promotion of international peace and security has a broad and all-encompassing meaning.
Ensuring progress in this endeavor requires measures across many areas – reducing tensions, fostering mutual confidence and trust in international relations; consolidating the rule of law; preventing the outbreak of violence and addressing the root causes of conflict in different settings.
In this regard, NAM can and should do more to help develop more holistic approaches, in tandem with key international institutions such as the United Nations, which has directed new attention on this important issue on the basis of the Secretary General's initiative to reform the organization's "peace and security architecture."
In regards to the fight against terrorism and violent extremism, a clear assessment of progress against these perils will show that neither NAM, nor the global community at large, have kept pace with the evolving scope, new methods and practices used by terrorists.
This is reflected by the increased acts of terror in my country, Afghanistan, our region, and elsewhere.
Our efforts should be centered on implementing all four pillars of the United Nations Global Counter-Terrorism Strategy.
We must no longer underestimate the lingering problem of terrorist sanctuaries and safe-havens that serve as a lifeline for the sustenance of terrorists, and which threaten regional and international peace and security.
Mr. Chairman,
A stable and secure Afghanistan is essential to the promotion of global peace and security.
This was the basis for the international community's engagement in Afghanistan.
In this light, we are grateful for NAM's solidarity and support for our stabilization efforts, as reaffirmed in our Outcome Document.
In spite of the severity of our security challenge, we have sustained progress across a number of areas.
Our security forces have consolidated control of our main cities and provinces, across the country.
On the negative side, setbacks on the battlefield have led terrorists and extremist groups to increase attacks in population centers, resulting in crimes against humanity.
Defeating terrorism and improving security will remain a high priority in the agenda of the National Unity Government.
Meanwhile, through two meetings of the "Kabul Process for Peace and Security," and last month's Tashkent Conference on Afghanistan, we have strengthened regional and international consensus on the imperative of a peaceful settlement to the current conflict.
We hope the international community will provide necessary support to help us implement our comprehensive peace plan.
On the development front, last year witnessed unprecedented progress in the area of regional economic cooperation.
Today, Afghanistan is gradually transforming itself from a land-locked to a land-linked country.
Large-scale regional projects have reached a new phase of implementation, on the basis of a renewed commitment by Afghanistan and regional partners, centered on a "peace-security-development nexus" approach.
In this regard, we are confident that our success can serve as a model to be applied in other countries facing conflict.
In conclusion, I wish to reiterate our firm belief and commitment to the principles on which NAM was founded.
These tenets, which are at the core of the UN Charter, remain of vital importance for the advancement of international peace and security, ensuring a rules-based global order, and achieving the 2030 development agenda.
Thank You.