Experts: The flight of specialists and elites from Afghanistan will cause a shortage of manpower in the future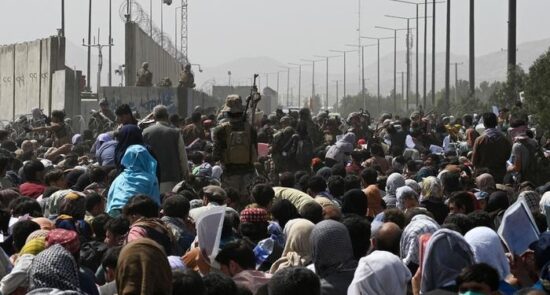 Ariana News Agency: A number of experts, political activists and even the Taliban have expressed concern over the gathering of thousands of people, especially elites and specialists, at Kabul's Hamid Karzai Airport to leave the country, saying the unprecedented invasion and departure of specialists will lead to a shortage of troops in the future.
For more than a week, thousands of Afghans, including local embassy staff, translators, specialists, teachers and even administrative staff, have stormed Kabul Airport to leave the country at any cost, which could take Afghanistan away. In the future wewill face a shortage of specialized and trained personnel to run this country.
According to experts, this unprecedented influx to leave the country has increased due to the possibility of escalating insecurity and the imposition of Taliban ideologies and concerns about the prosecution of a number of government employees.
To prevent the growing trend of experts leaving the country, the Taliban group has asked the ulema to encourage them to stay in the country.
The hasty withdrawal follows a plan to withdraw coalition forces from Afghanistan by August 31 and the Taliban to announce that the US presence will not be extended.
According to published reports, 12,000 Afghans leave Afghanistan every 24 hours by foreign military and passenger planes, the majority of whom are elites, experts, university professors, teachers and even ordinary people.
The Taliban issued a general amnesty order to prevent them from leaving the country, but that order also failed to prevent a massive incursion into Kabul airport.
Zabihullah Mujahid, a Taliban spokesman and acting head of the Taliban Ministry of Information and Culture, said the people apparently did not trust the amnesty decree and called on the ulema to do something to prevent people from leaving the country.
He called on the United States and Britain to refrain from encouraging people to leave the country.