Trump Rejected to Cut US Support for Saudi-led War in Yemen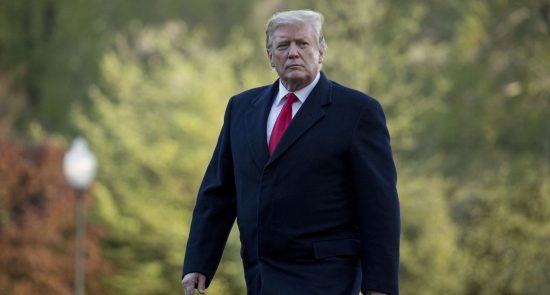 President Trump on Tuesday vetoed a measure that would have cut off U.S. military support for the Saudi-led campaign in Yemen's civil war, rebuking Congress for a second time this year.
Ariana News Agency-
In a statement to the Senate released by the White House, Trump called the joint resolution "unnecessary" and argued it would negatively affect U.S. foreign policy.
The resolution, which would have required Trump to withdraw any U.S. troops in or "affecting" Yemen within 30 days unless they are fighting al Qaeda, reached the president's desk after it passed the House in a vote of 247-175 earlier this month. The Senate had passed it in a vote of 54-46 last month.
Neither the House nor Senate vote was enough to override a veto.
"This resolution is an unnecessary, dangerous attempt to weaken my constitutional authorities, endangering the lives of American citizens and brave service members, both today and in the future," Trump said in his statement Tuesday.
The United States has supported a Saudi-led military coalition fighting Iran-backed Houthi rebels in Yemen's civil war with logistics, intelligence sharing and arms sales.
A group of lawmakers had tried for years to end the assistance, citing a high civilian death toll blamed on the Saudis, but their efforts consistently stalled until congressional fury at Saudi Arabia boiled over following the slaying of U.S.-based journalist Jamal Khashoggi in the Saudi consulate in Istanbul last fall.
Anger over the Khashoggi killing propelled the Yemen resolution to passage for the first time in the Senate last year. At the time, the Republican-controlled House did not take up the measure. When Democrats took over the House this year, they made passing the bill a priority.
The White House had threatened to veto each iteration of the resolution, arguing it raised "serious constitutional concerns" and was based on an "erroneous premise."
Supporters, though, held out hope Trump might sign it despite his administration's threats. Appealing to Trump's distaste for U.S. military entanglements in the Middle East, a bipartisan group of lawmakers sent Trump a letter after the resolution passed the House requesting a meeting to discuss the issue.
The letter was signed by GOP Trump allies such as Rep. Matt Gaetz (Fla.) and Sen. Rand Paul (Ky.), but the lawmakers never received a response to the letter.
"From a president elected on the promise of putting a stop to our endless wars, this veto is a painful missed opportunity," Rep. Ro Khanna (D-Calif.), the resolution's chief House sponsor, said in a statement Tuesday.
In his statement to the Senate, Trump said he agrees on the "need to address our engagements in foreign wars," highlighting its efforts to drawdown in Syria and Afghanistan.
But he argued U.S. military support in Yemen does not constitute U.S. military involvement in "hostilities." The military support is needed to "protect the safety of the more than 80,000 Americans who reside in certain coalition countries that have been subject to Houthi attacks from Yemen," he said.
The Trump administration has also made support for the war a key part of its counter-Iran policy, with Trump saying in his statement the Yemen conflict "represents a 'cheap' and inexpensive way for Iran to cause trouble for the United States and for our ally, Saudi Arabia."
Despite the veto and unlikelihood of an override, supporters of the resolution are still hailing its passage as a success.
"It sends a clear signal to the Saudis that they need to lift their blockade and allow humanitarian assistance into Yemen if they care about their relationship with Congress," Khanna said in his statement. "This bipartisan and bicameral success will also caution this and future administrations from going to war without first seeking authorization from Congress."
Khanna also vowed to continue the fight using the annual defense policy and spending bills.
Sen. Bernie Sanders (I-Vt.), who was the chief Senate sponsor, said he was "disappointed, but not surprised" at Trump's veto.
"The people of Yemen desperately need humanitarian help, not more bombs," Sanders tweeted. "I am disappointed, but not surprised, that Trump has rejected the bi-partisan resolution to end U.S. involvement in the horrific war in Yemen."
The veto is the second of Trump's presidency and comes a month after the president issued his first veto of a measure that sought to prevent his reallocation of money to build his long proposed border wall.