Hundreds Protest in US Against Trump's Syria Attack Decision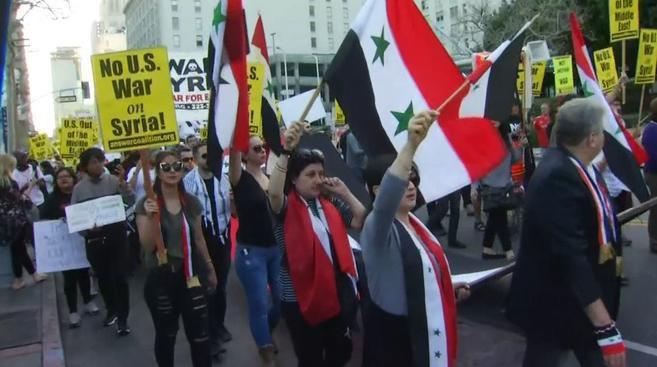 Hundreds of people came to downtown Los Angeles Saturday to protest President Trump's decision to bomb Syria in response to a sarin gas attack on Syrian civilians allegedly ordered by the Syrian government.According to NBC, the protesters massed at Pershing Square, near the intersection of Olive and 5th streets in downtown Los Angeles beginning at 5 p.m., according to Los Angeles police Sgt. J. Sterling of Central Division.
The emergency protest was organized by the International Action Center.
Meanwhile, according to media reports. Other protests were scheduled to be held across the country this weekend.
Protesters worried that Trump's attacks will start a new war in the Middle East.
Mr. Sterling said that organizers told police they expected about 2,000 people to join the demonstration.
Protests erupt in America, while the United States and its allies France and UK jointly fired more than 100 missiles on Syrian soil early Saturday morning.