WhatsApp Rumours have led to 30 Deaths in India. Who's Next?
India's social media disinformation problem is spilling out on to the streets, as the world's largest market for Facebook and WhatsApp - with a combined user base of 500 million - struggles to keep a lid on the spread of fake news.
Ariana News Agency-
On February 14, India witnessed the deadliest-ever attack on its armed forces when 44 paramilitary police officers were killed after a suicide bomber crashed a car laden with explosives into a military convoy.
The attack, which also left 70 injured, occurred in Indian-administered Kashmir – the region at the heart of a seven-decade old feud with neighbouring Pakistan.
It evoked widespread anger in India, with many calling for retaliatory action against the rival country for providing refuge to the terror group known as Jaish-e-Mohammed that claimed responsibility for the attack. This anger soon opened the floodgates of disinformation, rumours and warmongering on India's social media platforms.
Memes, morphed images and doctored videos began appearing on Indian WhatsApp streams soon after the attack. These ranged from conspiracy theories alleging the involvement of opposition political parties, to those stoking hatred against Kashmiris and others calling for nuclear strikes against Pakistan. A 2017 photo of Prime Minister Narendra Modi's main political rival, Congress party president Rahul Gandhi, was altered to show him with the suicide bomber.
Messages emblazoned with the names and contact details of prominent Modi government critics, exhorting people to call them and demand that they support the country's armed forces, went viral.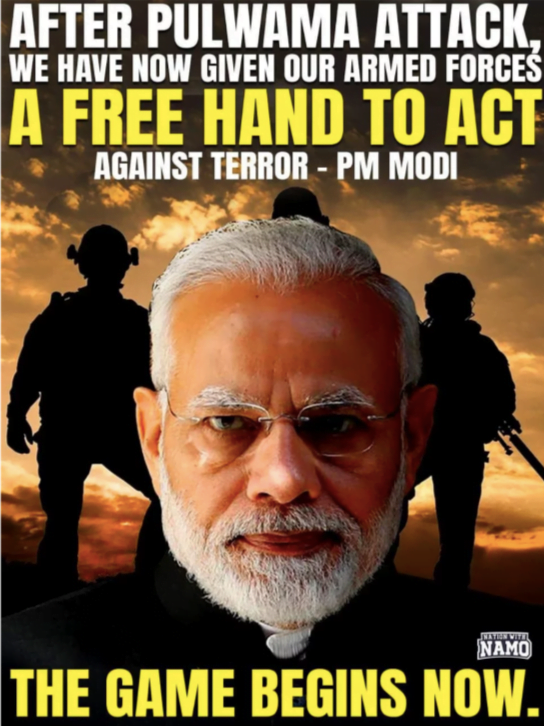 Screenshots and videos, often unverified, showing people in Kashmir supposedly celebrating the terror attack and expressing joy at the killings were circulated. As if in response, messages quoting retired military personnel asking "true nationalists" to boycott Kashmir also began to spread. Tathagata Roy, a former leader of Modi's Bharatiya Janata Party (BJP) and current governor of the northeastern state of Meghalaya, called for a boycott of "everything Kashmiri".
A leading Indian fact-checking website, Boom Live, said that within five days of the attack, it had investigated 25 pieces of "fake news" on social media.
For Apar Gupta, executive director of the Internet Freedom Foundation, an advocacy group, the situation is proof of the lack of preparedness among the authorities in India for dealing with disinformation on social media.
"This has shown the complete absence of any institutional framework in India which can deal with these issues and demand accountability towards not just the platforms but towards principal political actors," he said.
Hurriedly stepping into this vacuum has been the Central Reserve Police Force, from whose ranks the officers killed on February 14 came. In the days after the attack it took the unprecedented step of swiftly establishing a special team dedicated to fact-checking social media disinformation surrounding the suicide bombing.
Egged on by social media posts, angry mobs across the country led by right-wing Hindu groups have been protesting against Kashmiris in their midst. Many people from the region have been assaulted or threatened. In one case, the homes of Kashmiri students were surrounded.