Trump's Peace Plan Is Palestinians' Worst Nightmare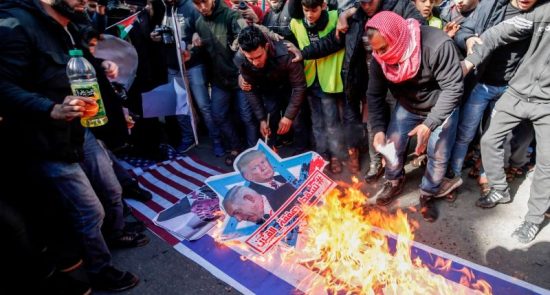 Arab states might accept Trump's one-sided initiative, but an increasingly vocal new generation of Palestinians won't allow regional leaders to sign away their right to a sovereign homeland.
Ariana News Agency-
If Jared Kushner gets his way, Abu Dis will be part of the capital of the future state of Palestine. What was once a sleepy village outside Jerusalem that offered picturesque views of the Dome of the Rock is now a decrepit, lawless enclave abutting Israel's separation wall.
For years, rumors circulated that this would become the Palestinians' future capital; in fact, it was supposed to house the Palestinian parliament. After the Oslo Accords were signed in the 1990s, the building was erected as an interim solution, but fears—which turned out to be substantiated—emerged among Palestinians that it would come to symbolize a relinquishing of the principle of a state whose capital is in Jerusalem proper, including its Old City.
The building was mostly done but then quickly abandoned for fear that it would be an omen of events to come: a temporary solution which became permanent.
Since the start of the peace process, Palestinians have negotiated for East Jerusalem (the half of the city east of the "Green Line," its internationally recognized boundary) to be the capital of a future state.
Most of the international community views it as occupied land, and therefore common consensus was that its fate would be determined through final-status negotiations.
But what U.S. President Donald Trump's plan for Middle East peace, unveiled on Jan. 28, proposes is to let Israel's separation wall (built on the pretext that it's a temporary security precaution) be its eastern border, letting the Palestinian Authority (PA) take responsibility for areas east and north—including the largely ungoverned enclaves of Kufr Aqab, Shuafat refugee camp and Abu Dis—and name them al-Quds, or "The Holy One," a designation that applies to the city of Jerusalem proper, not its outlying villages.
This would render the Green Line meaningless and push the border of East Jerusalem back beyond the actual city's periphery, into its hinterland.
"It's impossible for us to accept Abu Dis as a capital," said Rula Hardal, who teaches political science at Al-Quds University. "Our official stance has long been that East Jerusalem is our capital."
When Trump won the U.S. presidency in 2016, Palestinians were cautiously optimistic that his ad hoc, bombastic style and untested foreign-policy record could bring about the unconventional shift they were looking for in negotiations. Instead, following a trip to Israel and the Palestinian territories in 2017, Trump declared he would be moving the U.S. embassy from Tel Aviv to Jerusalem and recognize the city as Israel's "undivided" capital.
This followed a series of policies in Israel's favor that pummeled the shocked PA: Trump deprived the U.N. Relief and Works Agency of the U.S. donations it depended on to continue providing services to Palestinian refugees, stopped aid to the PA itself, closed down the Palestinian diplomatic mission in Washington, and recognized Israel's annexation of the occupied Golan Heights—unilaterally pulling some of the most fraught final-status issues off the table.