Pak army chief links peace in Pakistan with peace in Afghanistan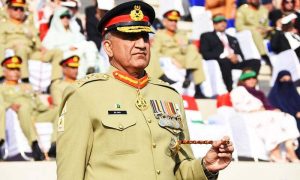 The Chief of Army Staff of Pakistan General Qamar Javed Bajwa linked the peace in Pakistan with peace and stability in Afghanistan.
Gen. Bajwa made the remarks during a ceremony to mark the graduation of some of the military cadets of the Pakistani army. He expressed his desire to see a more stable Afghanistan, saying that Pakistan is fully committed to helping the Afghan government in restoring peace.
"We are also committed to peace and reconciliation efforts in Afghanistan at all bilateral and multilateral forums," he was quoted as saying in a report by Dawn News. "We sincerely believe that there will be no peace in Pakistan, if there is no peace in Afghanistan."
The Chief of Army Staff of Pakistan highlighted Pakistan's shunning of extremism and victories in the fight against terrorism.
"Pakistan has eliminated almost all organised terrorist presence and infrastructure from its soil," he said. "We are now going after the residual and scattered traces of this menace under the banner of Operation Raddul Fasaad.
The remarks by Gen. Bajwa regarding the elimination of the terror safe havens came as the Afghan and US officials believe that the sanctuaries of the Taliban and Haqqani network leader have remained intact and their leadership councils are still based in Quetta, Peshawar, and other key cities of Pakistan.