41 Dead as Russian Plane Bursts into Flames on Landing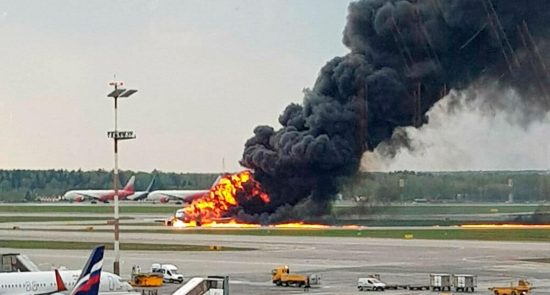 A Russian passenger plane erupted in a huge ball of fire and black smoke after making an emergency landing at Moscow's busiest airport, killing 41 people including at least two children.
Ariana News Agency-
Dramatic footage that went viral on social media showed Aeroflot's Sukhoi Superjet 100 aircraft crash-landing and then speeding along the runway at Sheremetyevo international airport on Sunday, flames pouring from its fuselage.
Passengers could be seen leaping onto an inflatable slide at the front and running from the blazing plane as huge black columns of smoke billowed into the sky.
Investigators said 41 people had died. "There were 78 people including crew members on board the plane," which was bound for the northwestern city of Murmansk, Russia's Investigative Committee said in a statement.
"According to the updated info which the investigation has as of now, 37 people survived."
Eleven people were injured, Dmitry Matveyev, the Moscow region's health minister said earlier in the day.
The jet — carrying 73 passengers and five crew members — left Sheremetyevo at 6:02 pm (1502 GMT), and the crew issued a distress signal shortly afterwards, officials said.
"After the take-off, the crew reported an anomaly and decided to come back to the departure airport. At 6:30 pm, the aircraft made an emergency landing," the airport said in a statement.
Aeroflot, Russia's flagship carrier, said the plane had to return to the airport "due to a technical reason" and its engines caught fire upon landing. Previous reports had said the fire broke out in mid-air.
The jet reportedly managed to land on its second attempt, hitting the ground with its landing gear first and then its nose.