Press freedom, Human Rights Orgs Condemn Julian Assange's Arrest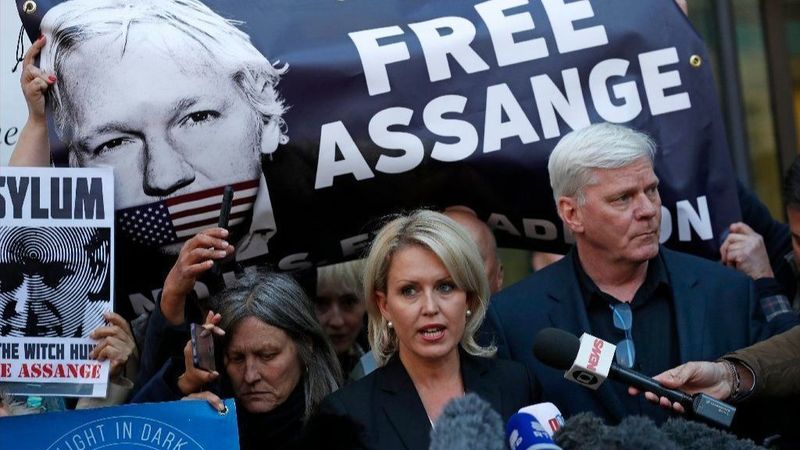 Major civil liberties, media freedom, and human rights groups speak out against the arrest of Julian Assange.
Ariana News Agency-
Knight Center at Columbia University (USA)
Jameel Jaffer, Executive Director of the Knight First Amendment Institute at Columbia University, issued the following response:
"The indictment and the Justice Department's press release treat everyday journalistic practices as part of a criminal conspiracy. Whether the government will be able to establish a violation of the hacking statute remains to be seen, but it's very troubling that the indictment sweeps in activities that are not just lawful but essential to press freedom—activities like cultivating sources, protecting sources' identities, and communicating with sources securely."
Freedom of the Press Foundation
Trevor Timm:
For years, the Obama administration considered indicting WikiLeaks publisher Julian Assange, before rightly concluding it could not do so without encroaching on core press freedoms. Now almost nine years in, the Trump administration has used the same information to manufacture a flimsy and pretextual indictment involving a "conspiracy" to violate the Computer Fraud and Abuse Act—based entirely on alleged conversations between a journalist and source.
While the Trump administration has so far not attempted to explicitly declare the act of publishing illegal, a core part of its argument would criminalize many common journalist-source interactions that reporters rely on all the time.
Requesting more documents from a source, using an encrypted chat messenger, or trying to keep a source's identity anonymous are not crimes; they are vital to the journalistic process. Whether or not you like Assange, the charge against him is a serious press freedom threat and should be vigorously protested by all those who care about the First Amendment.
Electronic Frontier Foundation
While the indictment of Julian Assange centers on an alleged attempt to break a password—an attempt that was not apparently successful—it is still, at root, an attack on the publication of leaked material and the most recent act in an almost decade-long effort to punish a whistleblower and the publisher of her leaked material.
Several parts of the indictment describe very common journalistic behavior, like using cloud storage or knowingly receiving classified information or redacting identifying information about a source.
Other parts make common free software tools like Linux and Jabber seem suspect. And while we are relieved that the government has not chosen to include publication-based charges today, the government can issue additional charges for at least another two months.
It should not do so. Leaks are a vital part of the free flow of information that is essential to our democracy. Reporting on leaked materials, including reporting on classified information, is an essential role of American journalism.
The Committee to Protect Journalists (CPJ)
"The potential implications for press freedom of this allegation of conspiracy between publisher and source are deeply troubling," said Robert Mahoney, deputy director of the Committee to Protect Journalists. "With this prosecution of Julian Assange, the U.S. government could set out broad legal arguments about journalists soliciting information or interacting with sources that could have chilling consequences for investigative reporting and the publication of information of public interest."
Amnesty International Ireland
"Amnesty International calls on the UK to refuse to extradite or send in any other manner Julian Assange to the USA where there is a very real risk that he could face human rights violations, including detention conditions that would violate the absolute prohibition of torture and other ill-treatment and an unfair trial followed by possible execution, due to his work with Wikileaks."
Human Rights Watch (HRW)
"Prosecuting Julian Assange for acts often associated with publishing news of public importance – including sensitive or classified information – has potential to open a dangerous precedent for every news organization," said Dinah PoKempner, general counsel at Human Rights Watch. "The Trump administration's open hostility to 'mainstream media' has contributed to an increasingly dangerous environment for investigative journalism worldwide."
Center for Constitutional Rights
Mr. Assange's arrest and possible extradition to face charges related to an alleged conspiracy with Chelsea Manning to publish documents that exposed corruption and criminality by numerous private businesses, tyrants, and countries worldwide is ultimately an attack on press freedom.
The arrest sets a dangerous precedent that could extend to other media organizations such as The New York Times, particularly under a vindictive and reckless administration that regularly attacks journalistic enterprises that, just like WikiLeaks, publish leaked materials that expose government corruption and wrongdoing. This is a worrying step on the slippery slope to punishing any journalist the Trump administration chooses to deride as "fake news."
It comes in the backdrop of even further cruelty toward and imprisonment of Chelsea Manning, who continues to defend the integrity of her heroic decision to act as a whistleblower and expose U.S. government atrocities it committed in Iraq.
The United States should finally seek to come to terms with the war crimes in Iraq that it has committed rather than attack and imprison those who sought to expose the truth of it.