US Pulls Troops out of Syria and Afghanistan, but the Tonnage of Airdropped Supplies is Spiking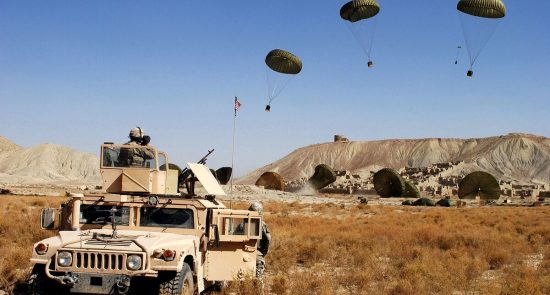 Despite a drawdown of troops, the U.S.-led coalition to defeat ISIS in Iraq and Syria dropped more tons of supplies in 2019 than during the large scale operations to liberate Mosul, Iraq and Raqqa, Syria.
Ariana News Agency-
The command did not respond to a question posed by Military Times regarding why the U.S. was dropping the immense quantity of food and equipment to forces on the ground, despite America's withdrawal from the region.
But the increase in airdrops could be directly related to the drawdown of troops in the region as ground logistics efforts become more difficult, a former veteran of the Air Force's Air Mobility Command told Military Times. Air Mobility Command is tasked with providing airlift, air refueling and airdropping supplies and goods.
"We're dropping supplies to folks out there because we don't have the logistics in place like when our numbers were up in country," the former AMC veteran told Military Times on condition of anonymity because he was not authorized to speak on the record. "Back when things were hot and heavy and we had a much larger presence in country we could put stuff on convoy and shoot it out across the region."
2019 thus far has seen the second highest amount of pounds of cargo dropped in support of Operation Inherent Resolve since the U.S. launched operations to combat ISIS militants rampaging the region in 2014.
Air power summaries provided by AFCENT detail that the U.S.-led coalition dropped 452 tons of supplies — the only year during OIR that the U.S. air dropped more supplies was 2014. That year coalition aircraft parachuted nearly 700 tons of cargo.
The 2019 totals are roughly equivalent to airdropping 65 Joint Light Tactical Vehicles — the U.S. military's replacement to the aging Humvee. One JLTV weighs roughly 7 tons.
During the bloody street-to-street battle to wrestle Mosul and Raqqa from ISIS' grip in 2017, the coalition airdropped 320 tons of supplies.
In Afghanistan — where the U.S. just revealed it had cut nearly 2,000 troops from U.S. force in the country over the past year — American aircraft in 2019 have dropped 122 tons of supplies.
That number is below last year's total of 334 tons of airdropped supplies, but is still a dramatic increase from 2015 and 2016 levels, when U.S. aircraft didn't airdrop any cargo in Afghanistan.
There are roughly 13,000 U.S. troops still in Afghanistan.