Pakistan's Khan Arrived in Iran Amid Tense Relations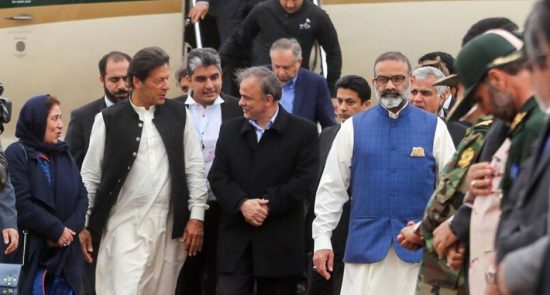 Pakistan's Imran Khan will discuss border security and regional issues on his two-days visit with Iranian leaders.
Ariana News Agency-
Pakistan's Prime Minister Imran Khan arrived in neighbouring Iran for bilateral talks, a day after Islamabad urged Tehran to act against armed groups behind the killings in Pakistan's Balochistan province earlier this week, Al-Jazeera reported.
Khan began his official two-day visit to Iran, the first since he took office last year, with a stop in the northeastern holy Shia city of Mashhad on Sunday.
Khan will meet Iran's Supreme Leader Ayatollah Ali Khamenei and President Hassan Rouhani, as well as other officials in Tehran on Monday.
"During the meetings, improving bilateral ties, border security, countering terrorism and regional issues will be discussed," Iranian state TV said.
A statement by Pakistan's foreign ministry said relations between the two countries are "marked by close historic and cultural linkages and strong people to people exchanges".
"The prime minister's visit to Iran will further strengthen the bilateral relationship between the two countries," it added.