Iran Revolutionary Guard Strikes Terrorist Groups in Northern Iraq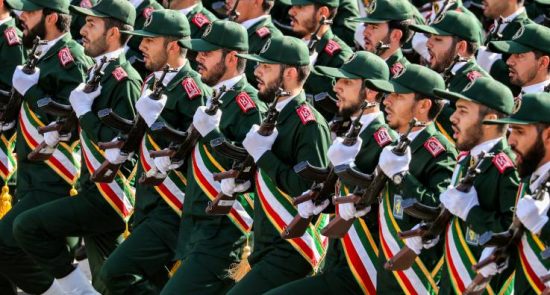 Iran has conducted strikes against targets in neighboring and responded to a recent threat from Israel as the Islamic Republic's armed forces vowed to defend their country's borders.
Ariana News Agency-
The Revolutionary Guards announced Friday that they conducted strikes against anti-Iranian government insurgents operating along the Iraqi border in the Kurdistan region. The move came after such groups, potentially Kurdish separatists, clashed with Iranian troops in the north and northwest in recent days, killing three.
Iran's semi-official Press TV outlet shared footage that appeared to show Iran's domestically-produced Mohajer M-6 drone as well as various howitzers and short-range missile systems striking targets. The Revolutionary Guards called on the people of Iraqi Kurdistan to avoid militant strongholds so as not to be used as human shields and warned that the recent strikes followed repeated warnings to Iraq's regional Kurdish government.
"As asserted several times, the national security and preserving the Iranian nation's calm and peace of mind, particularly for the dear and gallant people of the border provinces, is the red line of the country's Armed Forces, particularly the Islamic Revolution Guards Corps Ground Force," the Revolutionary Guards statement read, according to the semi-official Tasnim News Agency.
Though no timeframe was provided, the operation may have lasted more than a day as Ahmed Qadir, mayor of the northeastern Erbil village of Choman, told the Kurdish news outlet Rudaw on Thursday that "this shelling has taken place for two days in a row." He condemned the operation as an "indiscriminate" offensive, calling on Iran to "stop the shelling as soon as possible."
Like many countries in the region, Iran has complex ties with Kurdish groups, supporting some and opposing others. The head of one of the hostile organizations, Kurdistan Free Life Party (PJAK) co-chair Zilan Vejin, warned in May that her group would "not sit idly by" if war broke out between the U.S. and Iran and could "form a democratic front" in the event of a conflict. But she noted that she felt "Iran and the U.S. are fighting for their own interests," according to Kurdish outlet Rojnews.
U.S.-Iran tensions have worsened since President Donald Trump's decision to abandon the deal was based on his assertions that it did not do enough to stop Iran's funding for militant groups or ballistic missiles. His move was hailed by Israel, along with Saudi Arabia and the United Arab Emirates, but condemned by the agreement's other signatories, including China, the European Union, France, Germany, Russia and the United Kingdom.
Israeli Prime Minister Benjamin Netanyahu warned Tuesday that his F-35I Adir warplanes "can reach anywhere in the Middle East, including Iran and certainly Syria." In response, Iranian Defense Minister Amir Hatami stated Friday that "any enemy at any level intending to violate the sacred territorial integrity of the Islamic Republic of Iran will be met with a decisive and crushing blow that will instill regret," according to the country's official website.
Hatami also referenced earlier remarks made by Netanyahu at the Negev Nuclear Research Center, where the Israeli leader said "those who threaten to wipe us out, put themselves in a similar danger." Both Iranian and Israeli officials have long swapped such grave threats, but recent nuclear-fueled tensions have escalated to the point of crisis.
Israel is widely believed to possess nuclear weapons but has neither confirmed nor denied such an arsenal, while Iran has maintained that its own nuclear program was only for civil purposes. Still, Iran was hit with international sanctions only lifted by a 2015 deal that the United States left last year, leaving Tehran with minimal incentives to remain as new U.S. restrictions bound its economy and geopolitical frictions grew critical.