India Claims Airstrikes on Pakistan 'Terror Camps' Across Disputed Kashmir Border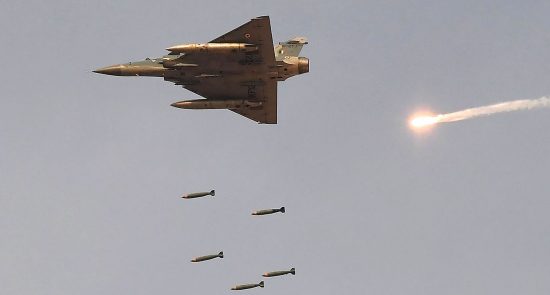 Attack an act of 'extreme valour', says minister, after the first clash of its kind since the countries went to war in 1971.
Ariana News Agency-
India has said it launched air strikes against a large militant training camp across the ceasefire line in Kashmir, the first aerial bombing over the disputed border since the country went to war with Pakistan in 1971.
Foreign secretary Vijay Gokhale said in a briefing that Delhi had received credible intelligence the Jaish-e-Mohammed (JeM) militant group, which killed 40 Indian security personnel in a suicide bombing earlier this month, was training fighters for similar attacks.
"In the face of imminent danger a pre-emptive strike became absolutely necessary," Gokhale said.
Pakistan, which was the first to announce the incursion of Indian fighter jets early on Tuesday morning, has said the war planes only made it up to 4 miles inside its territory before they were rebuffed, hastily dropping their payloads without casualties or damage.
"Indian aircrafts intruded from Muzafarabad sector," Pakistan's armed forces spokesman major-general Asif Ghafoor said on Twitter on Tuesday morning.
"Facing timely and effective response from Pakistan Air Force released payload in haste while escaping which fell near Balakot."
He added in a later tweet: "Under forced hasty withdrawal aircrafts released payload which had free fall in open area. No infrastructure got hit, no casualties."
The attacks overnight followed nearly a fortnight of sabre rattling between the nuclear-armed neighbours over the 14 February suicide bombing, in which India has claimed Pakistan had a "direct hand". JeM is based in Pakistan but Islamabad has rejected any responsibility for the attack.
Gokhale said Indian jets struck JeM's largest training camp in the Balakot area in the early hours of Tuesday. "A very large number of JeM terrorists, trainers, senior commanders and groups of jihadis being trained for fidayeen [suicide] action were eliminated," he said.
He said the training facility, which he described as being in thick forest on a hilltop, was far away from any civilian settlements, and was overseen by the brother-in-law of the JeM chief, Masood Azhar.
He declined to confirm the location of Balakot, which is the name of both a Kashmiri village on the ceasefire line between India and Pakistan and a larger city about 50 miles from that border.
An attack on the larger Balakot would be significant because it is the province of Khyber-Pakhtunkhwa, well into accepted Pakistani territory.
Pakistan's prime minister Imran Khan summoned an emergency meeting of top security and diplomatic officials, the country's foreign minister Shah Mahmood Qureshi said on Tuesday.
"I consider this a violation of the line of control," Qureshi said in brief comments to the media after the meeting. "Pakistan has the right to an appropriate response, it has the right to self defence."
Pakistan released pictures on social media showing uprooted trees and cratered soil, which it claimed was the extent of the damage from the Indian bombing.