Urging Truce Extension Afghanistan Plans to Flee 900 Taliban Prisoners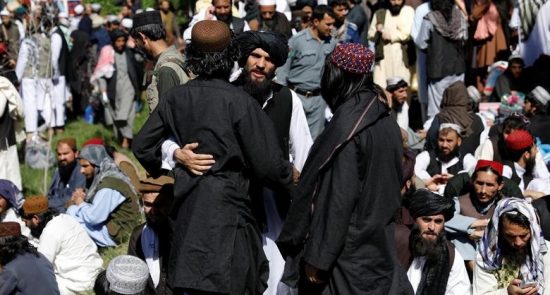 The Afghan government said it was in the process of releasing 900 Taliban members and urged the insurgent group to extend a three-day ceasefire which ends at midnight.
Ariana News Agency-
"There is a decision to release 900 today", national security council spokesman Javid Faisal said, adding that the exact number could vary subject to legal procedures, and that the Afghan government is ready to extend the ceasefire.
Under the US-Taliban deal signed in February, the Afghan government is supposed to release up to 5,000 Taliban prisoners while the insurgents would free about 1,000 Afghan security force personnel.
The prison swap was delayed because of a political feud between president Ashraf Ghani and his rival Abdullah Abdullah. On May 17 both leaders reached a power-sharing deal.
On Sunday, Ghani started a process to release up to 2,000 Taliban prisoners as a "goodwill gesture", after the armed group announced a three-day ceasefire during the Muslim holiday Eid al-Fitr. Fighting between Taliban and Afghan forces has intensified before the ceasefire.
On Monday, Afghan authorities said they have released 100 Taliban prisoners from Bagram, north of Kabul.
With Tuesday's release of 900, about 3,100 Taliban members would need to be freed from government prisons to reach the agreed figure of 5,000, while about 895 government soldiers would need to be freed by the Taliban.