Pakistani Army Chief in Kabul to Discuss Peace Process with Afghan Top Authorities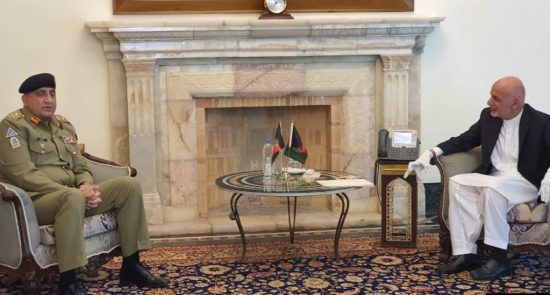 Pakistan's army chief arrived in Kabul to discuss peace talks with President Ashraf Ghani and Chairman of the High Council for National Reconciliation Abdullah Abdullah.
Ariana News Agency-
During the June 9 meetings, the two sides discussed Pakistan's support of the peace process, the presidential palace said.
According to the statement, further details of the meeting will be released in the form of a joint statement from the Afghan and Pakistani foreign ministries.
The highest Pakistani military official, accompanied by the country's intelligence chief and the newly appointed special envoy for Afghanistan, is visiting Kabul ahead of peace talks between the government and the main insurgent group in Afghanistan.
The relation between Kabul and Islamabad is marred by deep mistrust. Afghan officials accuse Pakistan of backing Taliban militants, who are aggressively fighting to topple the US-backed Kabul government for nearly two decades now. Pakistan denies the allegations.
Bajwa's visit follows his meeting in Islamabad with US peace envoy Zalmay Khalilzad, who is currently in Qatar, where the Taliban has a political office.
Khalilzad, who brokered a peace deal with the Taliban in late February, is pushing for the start of intra-Afghan peace talks between the insurgents and the government.
On June 9, Kabul said it had released 3,000 inmates, 60 per cent of Taliban prisoners cited in the US-Taliban agreement to pave the way for intra-Afghan talks. "Further releases will continue in tandem with a reduction in violence and progress toward direct negotiations with the government," a spokesman for the National Security Council said.