Nawaz Sharif meets with Afghanistan National Security Adviser in London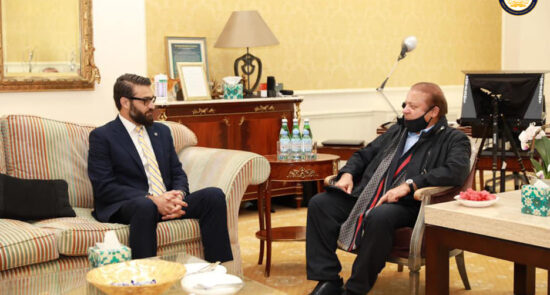 Ariana News Agency: According to the Urdu Times dated 5/4/1400, the former Prime Minister of Pakistan Nawaz Sharif, who is in London met with Hamdullah Moheb, National Security Advisor of Afghanistan and emphasized on maintaining mutual respect between the two countries and non-interference in each other's internal affairs and strengthening democracy in the two neighboring countries as a determining factor in the path of stability and prosperity of the country.
In response to the meeting, Pakistani Information Minister Chaudhry Fawad Ahmad described it as having a negative impact on Islamabad's security doctrine and said that people like Nawaz Sharif were involved in forming international conspiracies against the country and plundering national interests in pursuit of exploitation. Nawaz Sharif's meeting with Hamdullah Moheb, India's biggest ally in Afghanistan and a man who called Pakistan a hotbed of corruption, is futile because they lack any role in the decision-making process in their home countries. He added Imran Khan, Prime Minister of Pakistan, has repeatedly stated that he will not negotiate with the Afghan National Security Advisor because he is the enemy of Pakistan and Pakistan's policy in Afghanistan is clear and based on Pakistan's national interests.
Pakistan does not cooperate with the Taliban or any other special group in Afghanistan and will support the people of this country. Peace and stability in Afghanistan are important for Pakistan and we call for the formation of a consensus government of the Afghan people.