Afghanistan to Taliban: Peace or 'We will Continue to Fight'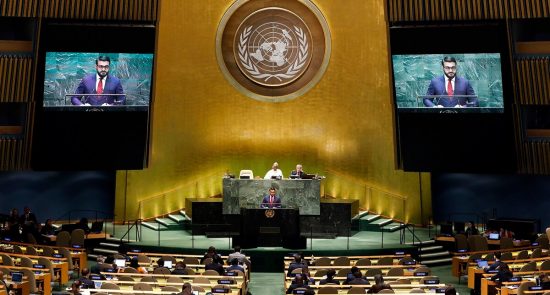 As Afghans await the results of a presidential election roiled by Taliban threats, the government used its platform at the U.N. General Assembly on Monday to tell the insurgents: "Join us in peace, or we will continue to fight."
Ariana News Agency-
Afghanistan was not the only country sending a message: North Korea had one for the United States, saying it was up to Washington whether now-stalled nuclear negotiations "become a window of opportunity or an occasion that will hasten the crisis."
And even in the final hour of this year's U.N. gathering of world leaders, Iran and Saudi Arabia traded barbs sharpened by a recent missile and drone strike on major Saudi oil facilities.
Monday's speeches wrapped up a meeting marked by global worries over the rising tensions in the Persian Gulf region, the changing climate and the very future of the idea of large-scale international cooperation that the U.N. represents.
As General Assembly President Tijjani Muhammad-Bande put it in his closing remarks, "The world will not survive for long unless we cultivate the give-and-take spirit" of multilateralism.
Afghanistan's national security adviser, Hamdullah Mohib, spoke two days after his countrymen voted in a presidential election in which hundreds of polling centers weren't opened because the country couldn't secure them against the Taliban. The militants control or hold sway over roughly half the country and warned voters not to go to the polls.
Results of the elections aren't due for weeks.
Mohib trumpeted the democratic commitment of Afghans who voted despite the threats — some despite having had fingers cut off by the Taliban during prior elections, he noted.
In a country where a new generation of leaders has grown up in wartime, "the opportunities afforded to us through the gains of the past 20 years have allowed us to change hope into something much more powerful — belief," Mobib said.
"We believe in our abilities to bring about the peace we have hoped for all our lives."